August 24th-26th
Hyatt Regency Salt Lake City
170 South West Temple
Salt Lake City, UT 84101
Registration will open
April 1, 2023
Friday Evening Fundraiser Entertainment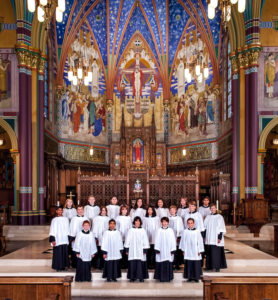 The Madeleine Choir School, located in downtown Salt Lake City, featured here in front of the altar at the Cathedral of the Madeleine will be the 2023 Fundraiser on Friday, August 25th.  The choristers in Grades Five through Eight will be accompanied by some of the adult choir members for the Cathedral of the Madeleine.  
Established in 1996, the school continues the cathedral tradition of inspiring young people to become engaged scholars, effective communicators, dedicated liturgical musicians, and responsible world citizens who seek to build a civilization of justice, mercy, and love.
During the academic year they can be heard at the Cathedral's 5:15 p.m. Mass Monday through Thursday, and on Sundays at the 11:00 a.m. Mass. The students travel on international and national performance tours including Italy every four years where they perform in Cathedrals and Basilicas in Milan, Venice, Florence, Assisi and Rome.  The Choristers of the Madeleine Choir School regularly collaborate with the Utah Symphony and the Utah Opera and other arts organizations, including Grand Teton Music Festival.
2023 Convention Forms
For all form submissions, please email us at convention@nccw.org