August 24th-26th
Hyatt Regency Salt Lake City
170 South West Temple
Salt Lake City, UT 84101
Registration closes Saturday July 15, 2023
---
All spouse registrations must be made by calling the NCCW Office at 703-224-0990 or by using a mail in form.
---
Tours (Tuesday August 22, 2023)
Best of Salt Lake City 10:00am departure

Best of Salt Lake City 2:00 pm departure

(Sold Out)

Trolley Adventure of Salt Lake City 10:30 am departure

Trolley Adventure of Salt Lake City 1:30pm departure

Night Cathedral and Adoration 6:00pm departure
Friday Evening Fundraiser Entertainment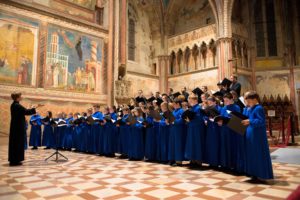 The Madeleine Choir School, located in downtown Salt Lake City
The Choir
The choristers assist with the worship life of the Cathedral of the Madeleine, serving over 9,000 hours every year and performing in the Cathedral's annual concert series. National and international performance tours are an integral part of every student's experience at The Madeleine Choir School. Past tours have encompassed performances in London, Paris, Madrid, Rome, Vienna, Prague, and Berlin, including Westminster Cathedral, Notre Dame de Paris and St. Peter's Basilica.  In addition, the choristers sing regularly with local arts organizations, including the Utah Symphony | Utah Opera, and have been featured in performances with Ballet West, Utah Chamber Artists, The Mormon Tabernacle Choir, Helena Symphony, and the San Francisco Opera.
Convention 2023 Charity

This year's charity is Catholic Community Services an affiliate of Catholic Charities USA. The mission of Catholic Community Services of Utah is to practice gospel values of love, compassion, and hope through service, support, and collaboration. Bins will be provided for collection of hats, gloves, socks, underwear, bras, and toiletries to be distributed to homeless shelters in Salt Lake, Ogden, South Valley, Eastern Utah, and Southwestern Utah. Contact Randy Chappell, Basic Needs Director at 801-428-1276 for more information.
2023 Convention Forms
For all form submissions, please email us at convention@nccw.org
A Letter of Suitability for clergy wishing to celebrate Mass or hear Confessions should be sent to either the Office of the Bishop or the Office of the Vicar General, 27 C Street, Salt Lake City, UT. 84103 at least 6 weeks prior to the NCCW Convention. 
Please

do not

send letter to the NCCW Office.