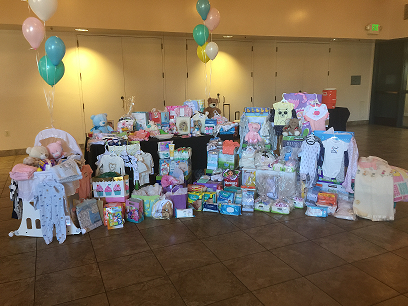 Let's celebrate life! The Orange DCCW hosted a "Baby Shower" to support the Precious Life Shelter (PLS) of Los Alamitos whose mission is an emergency, transitional home that provides a safe environment for homeless, pregnant women.
Members were generous with gifts and monetary donations. The event was held on April 23, 2019 at our monthly General Gathering that started with Mass at St. Norbert's Church in Orange, and followed with a traditional "baby shower" that included mimosa, lunch, and games. Penelope Heckler, council President, introduced the founder of PLS, Theresa Sherrin, and a pregnant woman from the shelter.
Submitted 5/14/2019 by Dr. Ida Pennella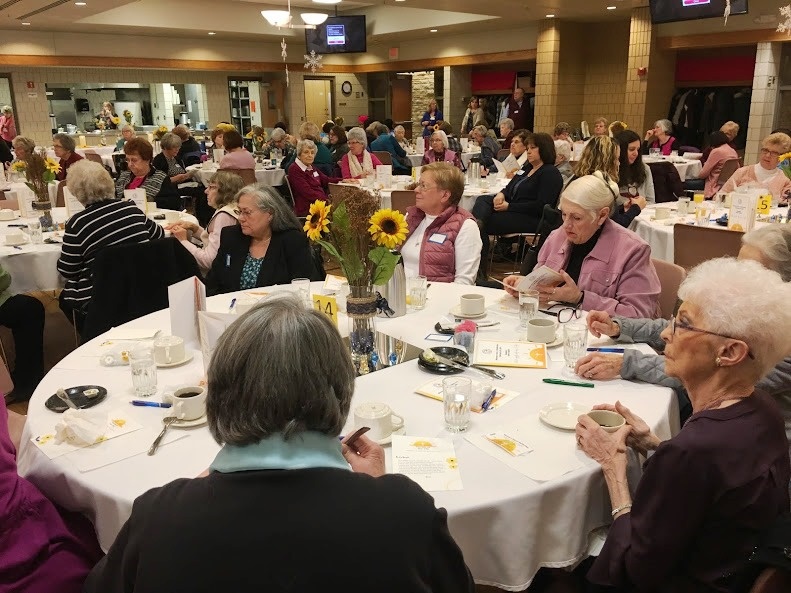 The St. Alphonsus Council of Catholic Women's Day of Reflection was Saturday, February 16. Mary Kellet, founder and executive director of Prenatal Partners for Life, shared her message on "The Gift of Our Life" and "Self Care for Care Givers."  Our day began with the 8:00 am parish Mass, followed by a continental breakfast, Mary's message, Rosary, Benediction and lunch.
Submitted 5/2/2019 by Teresa Droessler

ACCW's Spiritual Advisor Msgr. Robert G. Amey sent a letter to each pastor in the Archdiocese encouraging him to appoint a parishioner to be his parish's ambassador to ACCW. The letter requested that the pastor pay the parish ambassador's $25 membership fee.
Monsignor's letter emphasized the good which ACCW has done recently and pointed to its growth.
Submitted 5/20/2019 by Sharon O'Brien

"The Chicago Archdiocesan Council of Catholic Women in Vicariate 1 sponsor an annual "Golden Rose Award Breakfast" to honor a High School Young woman from each parish in Vicariate 1, the first Saturday of December. The recipient is selected by her parish youth minister/ pastor/or Women's Club group for showing Leadership, portraying spirituality and participating in a service project having gone above and beyond compared to her peers.
We celebrate these young women at a breakfast with a Bishop giving them a certificate, a rose pendant and this year a one year Individual High School membership to the National Council of Catholic Women."
01/04/19 Chris Schumann, Past Province Director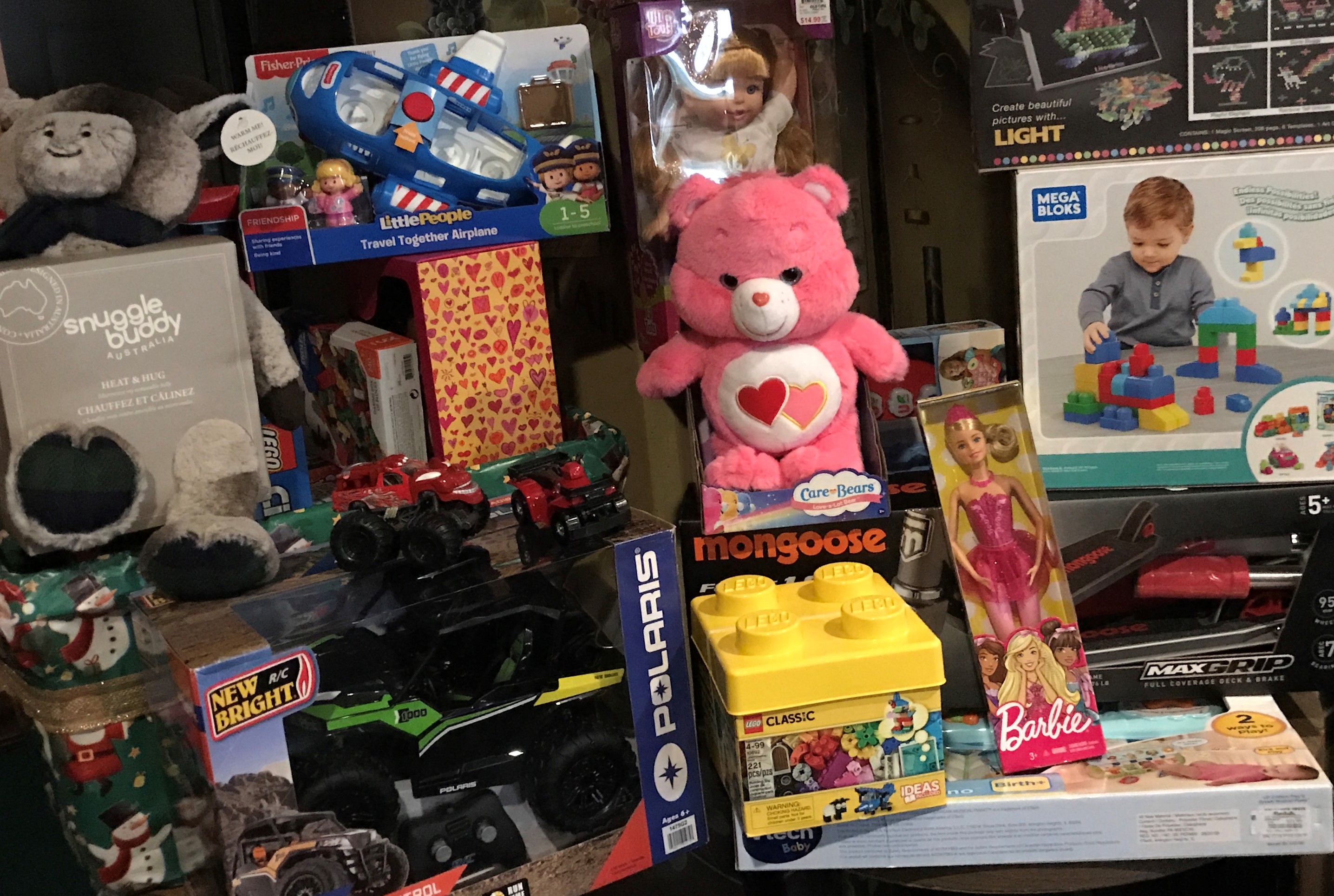 Catholic Church of the Holy Spirit Council of Catholic Women
The Catholic Church of the Holy Spirit Council of Catholic Women (HSCCW) in Pensacola, Florida held its annual Christmas luncheon on Dec. 13 and collected toys for families in Panama City affected by Hurricane Michael.  Christine, HSCCW president, and her husband, Eric Ericson delivered toys collected by HSCCW to Catholic Charities in Panama City.
Submitted 01/04/19 by  Christine Ericson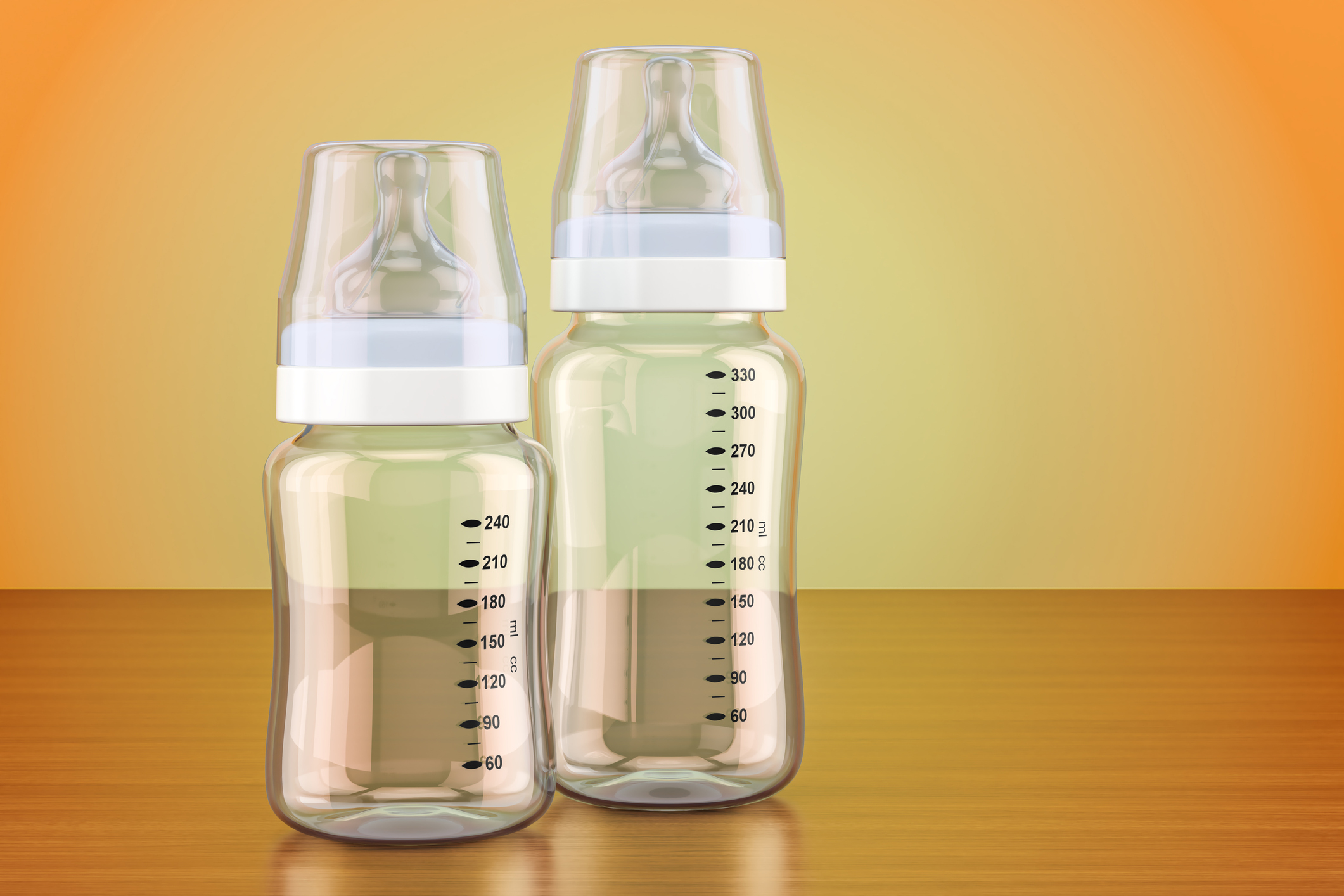 "During Advent we get 35 baby bottles from our local Hannah Center and place them at the entrances of our church.
We ask that families take one and fill it with change for a gift to the baby Jesus and bring it back after Christmas.
Doing this we make a sacrifice , involve the whole family, and promote the spirit of giving.  Last year we collected over $747 for the Hannan Center.  ( A home that helps pregnant moms in need.)"
Submitted 01/07/19 by Grace Mullen, President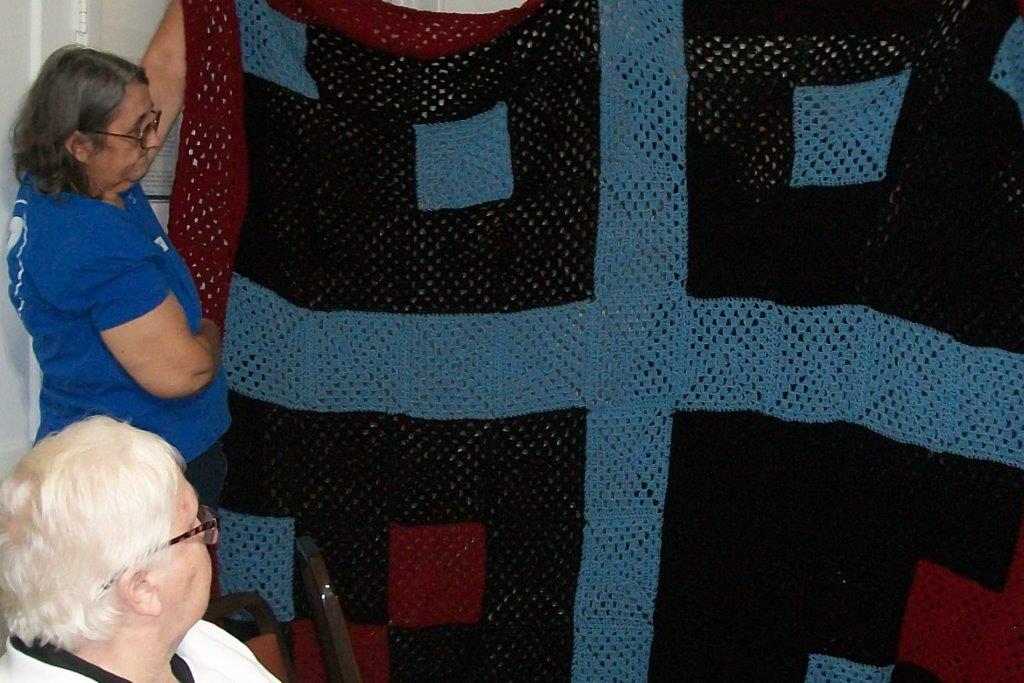 This blanket  was crocheted by CCW member Rachel Kavanaugh (shown on left) to be sent to our spiritually adopted seminarian - Esteban Mallar.  He is presently at Mount St. Mary's Seminar in Emmitsburg, MD.
Rachel also crochets baby blankets for mothers enrolled in our Roses for Babies program.   We pray for the mother and family throughout the pregnancy.  When the baby is born,  we arrange to bring a homemade meal and the baby blanket to mom and baby.
Submitted on January 21, 2019 by
Yvette Carr,  Atlanta Province Director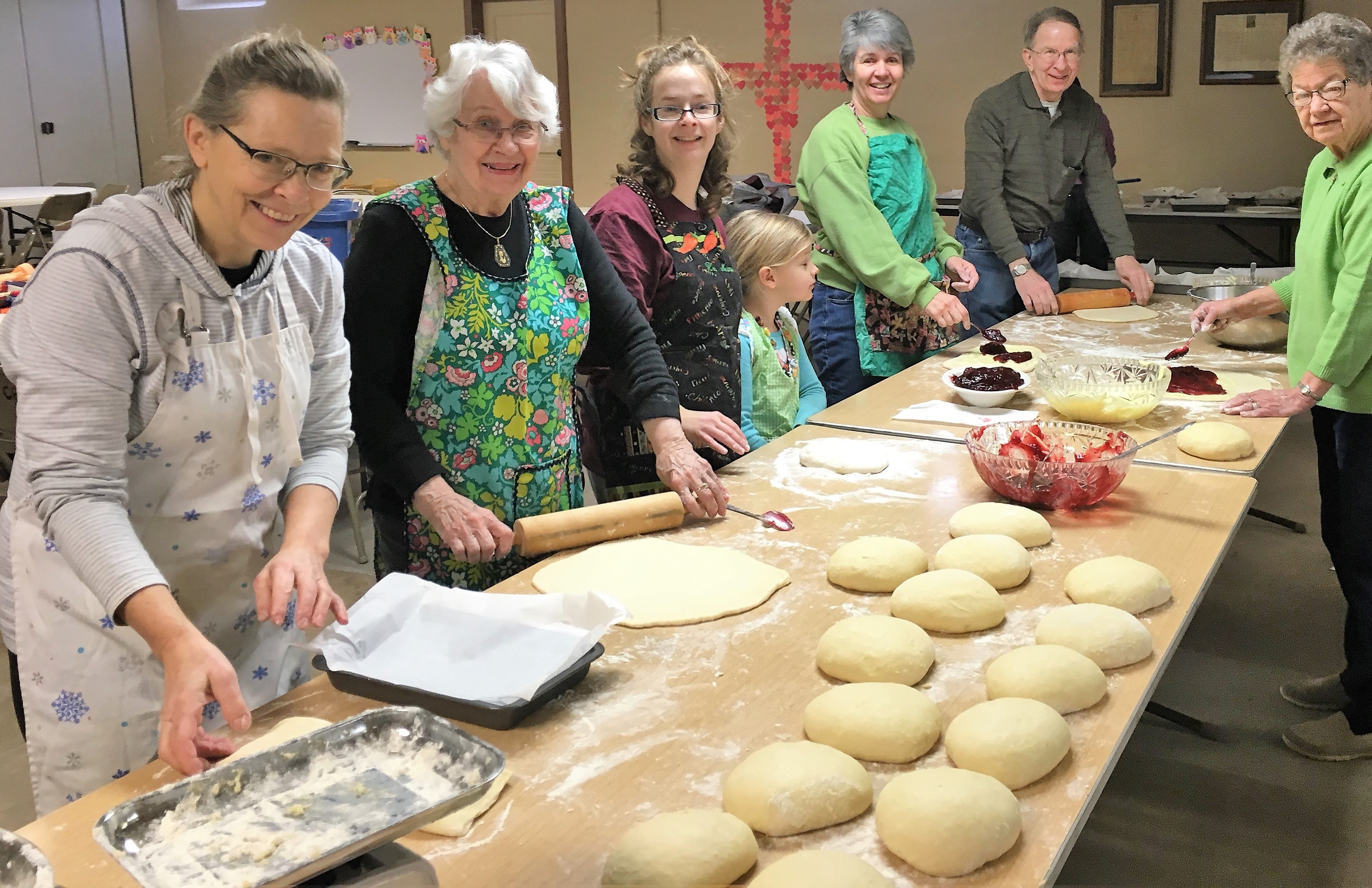 Our Lady of Mount Carmel CCW
We baked over 100 Polish coffee cakes to sell at our breakfast.  Our affiliate has been doing this for over 20 years.  The funds are donated to assist with the purchase of faith formation books, church kitchen supplies and other community needs. 
Submitted on 01/28/19 by Irene Schmidt, ST. Paul/ Minneapolis Province Director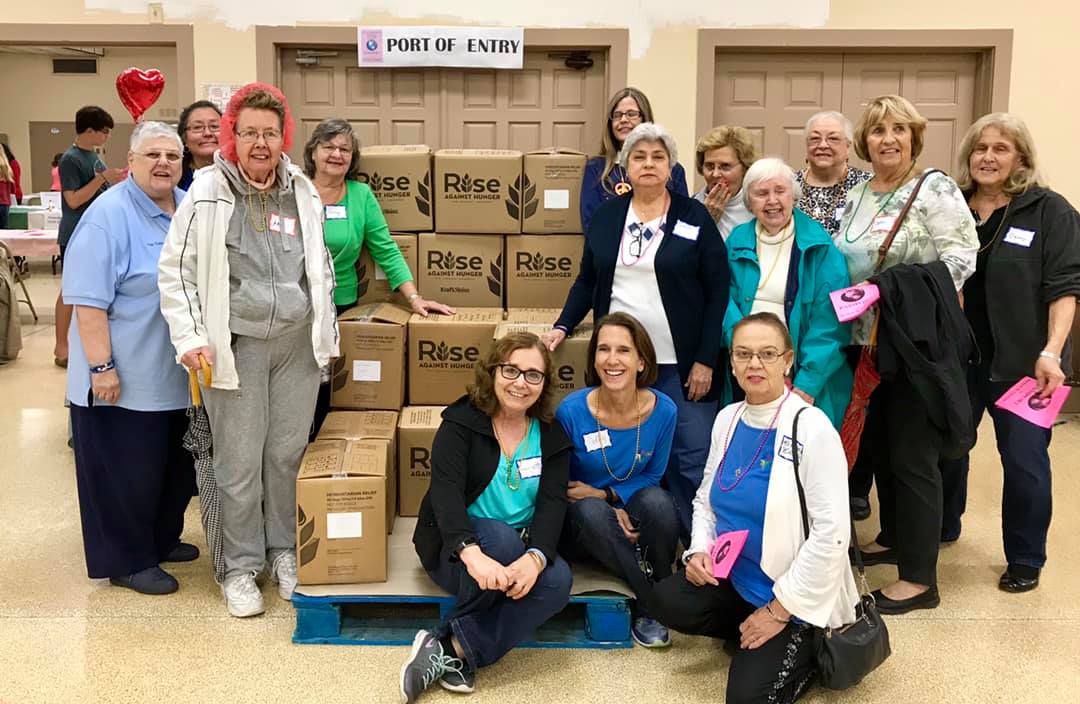 Ascension Council of Catholic Women
Ascension Council of Catholic Women in Florida helped pack 10,000 meals with CRS Helping Hands, a Catholic volunteer and formation event that allows participants to serve their brothers and sisters overseas in a tangible way.
Submitted via Facebook on 01/28/19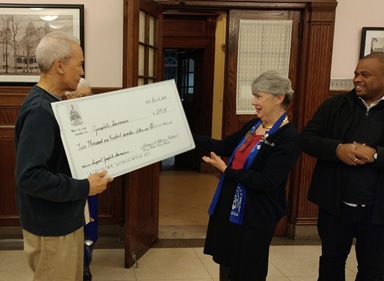 Washington Archdiocesan CCW Supports Seminarians
Archdiocesan CCW President Sharon A. O'Brien presents a check for $2117 to Bishop John Ricard, Rector of the Josephite Seminary in Washington, DC, on December 10. ACCW Service Commission Chair Carol-Ann Parker spearheaded the project to raise money at ACCW events throughout 2018 to aid seminarians who minister primarily to African American Catholics. Looking on is Father Cornelius, Academic Dean. ACCW Secretary, Cheryl Holley arranged the event.
Submitted on January 29, 2019, by Rose Folsom, Washington DC ACCW VP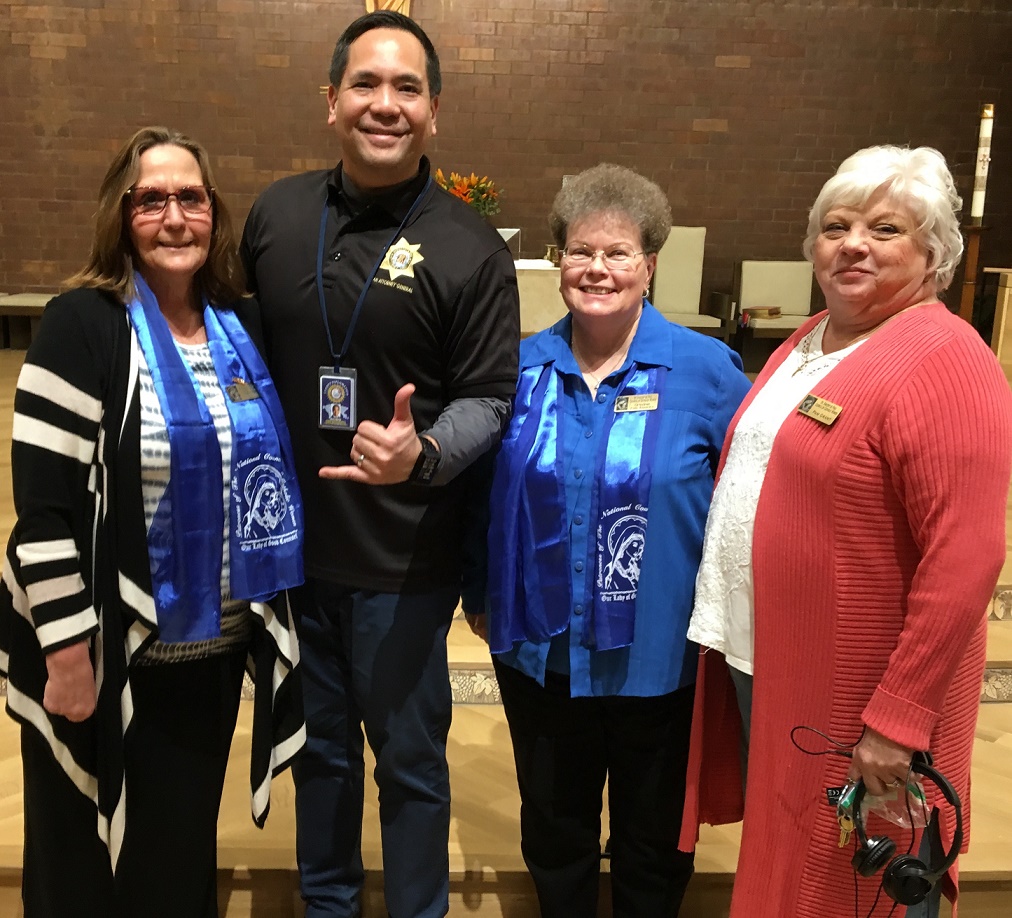 Sean Reyes, UT attorney general, spoke to St. Vincent de Paul CCW on stopping human trafficking in Utah.  He encouraged them to be vigilant – observe, be suspicious, and report our suspicions. He pointed out that Utah is a great thoroughfare from the South and West – freeways and airport. Human Trafficking is becoming much more profitable than Drug Trafficking due to it being 'repeatable'.
Submitted January 29, 2019 by Catherine L. Ford-Barbiero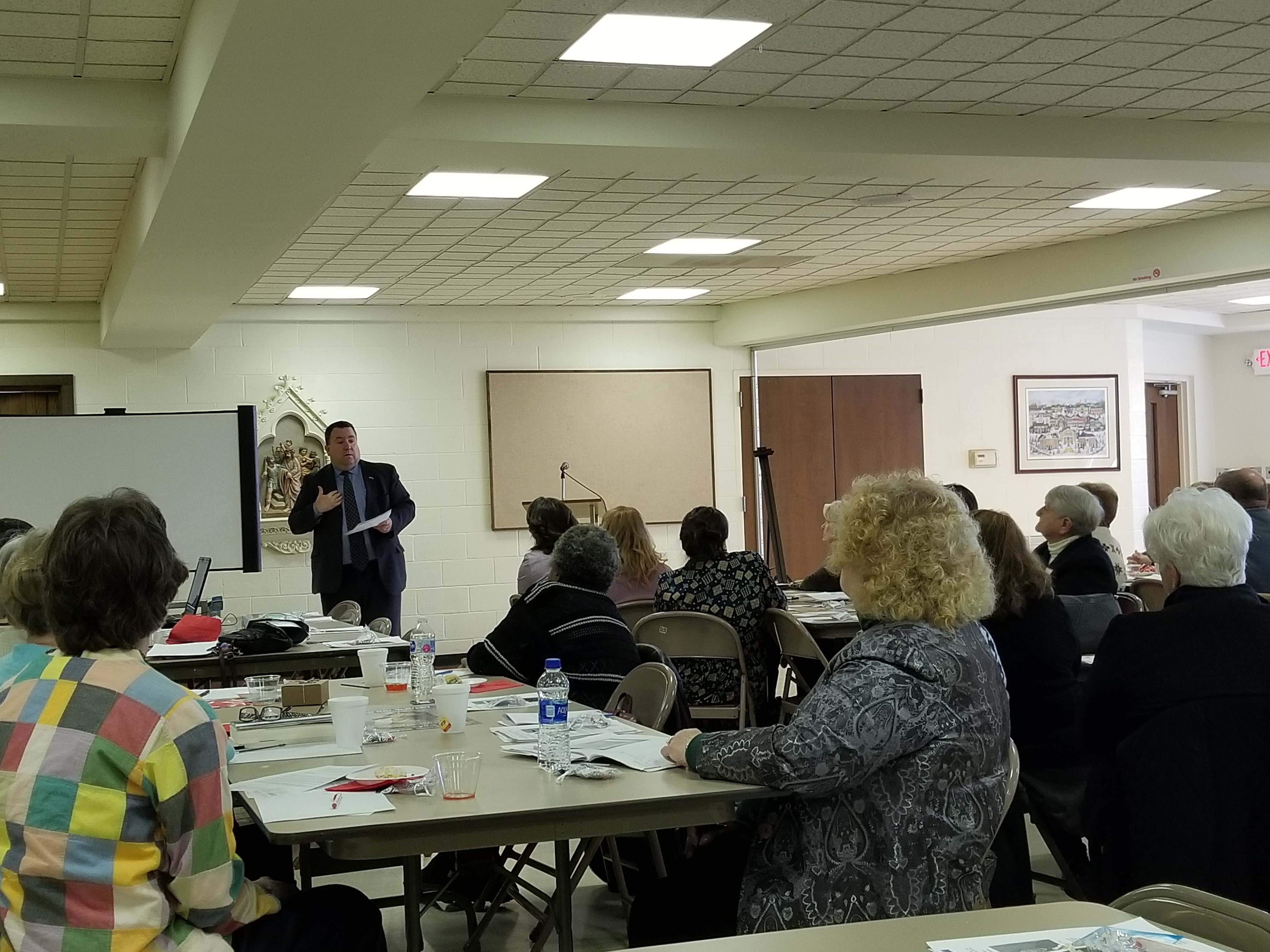 St. Bernard's parish held their 4th annual St. Bakhita Day of Prayer and Education to Combat Human Trafficking.
This year we started with a prayer service and 3 members from our group presented the USCCB's Become a Shepherd Powerpoint.
Indiana County District Attorney, Patrick Dougherty, shared with attendees what trafficking he sees in the current opioid epidemic and the need for more awareness and education among law enforcement. We closed with the Chaplet for Human Trafficking, composed by local woman, Shirley Odosso,  that includes prayers for the traffickers, victims and their families.
Submitted February 12, 2019 by Raissa Federline, Greensburg DCCW Prayer & Outreach Group to Combat Human Trafficking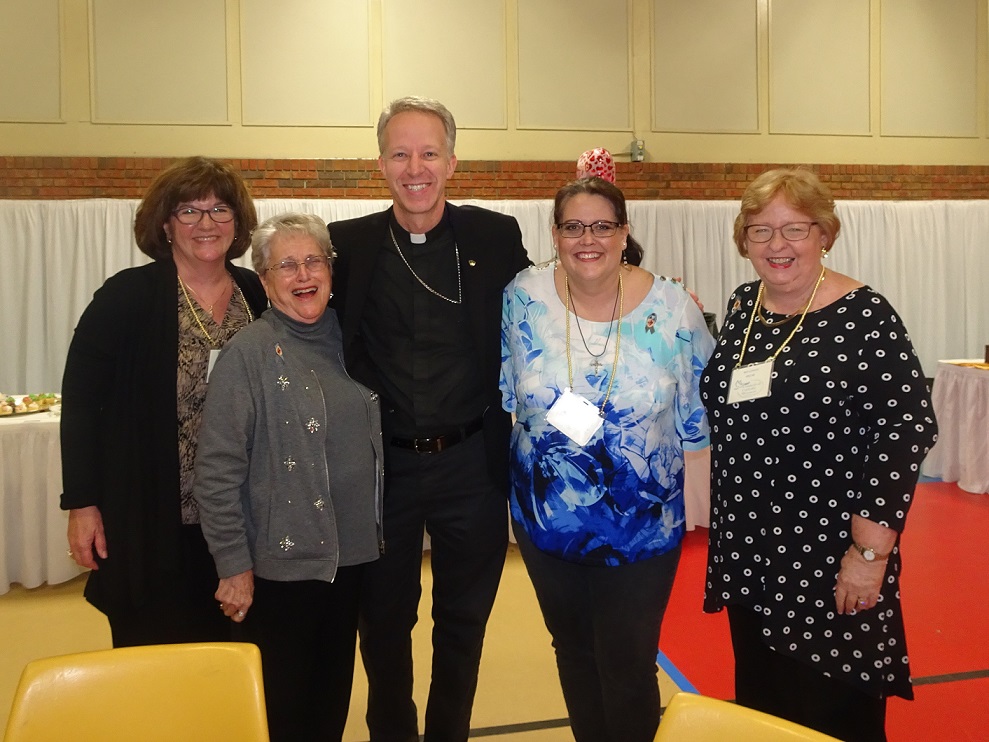 St Paul Catholic Church & SPCCW
St Paul Council of Catholic Women (SPCCW) in Pensacola, Florida hosted a "MASS TO PRAY FOR AN END TO HUMAN TRAFFICKING" on Wednesday, February 13, 2019.  Invitation was extended to family, friends, male and female of all ages through Pensacola Tallahassee Diocesan NewsNotes.   In addition, Western Deanery CCW Presidents contributed to spreading the word through their councils and parishes, of which several surrounding council members attended.  The mass took place at 6:30 pm with Bishop William Wack, Presider along with Father Craig Smith, Pastor/Co-Celebrant and Deacon Bill Whibbs.  It is projected @ 200 people attended mass.
Most attendees participated and enjoyed fellowship following mass in St Paul Parish Center. Much discussion regarding the issue of Human Trafficking plus a handout with trafficking awareness was available at all tables.  Home-made cookies and such, were provided by SPCCW Council Members and enjoyed by all. Nothing went to waste. Providing "To-Go" boxes, Bishop Wack collected a few treats for himself, Sister Margaret Ann gathered some goodies for "Prison Ministry" visit following day, along with other guests, making for zero leftovers!
Submitted 2/14/2019 by Jackie Dickinson, SPCCW President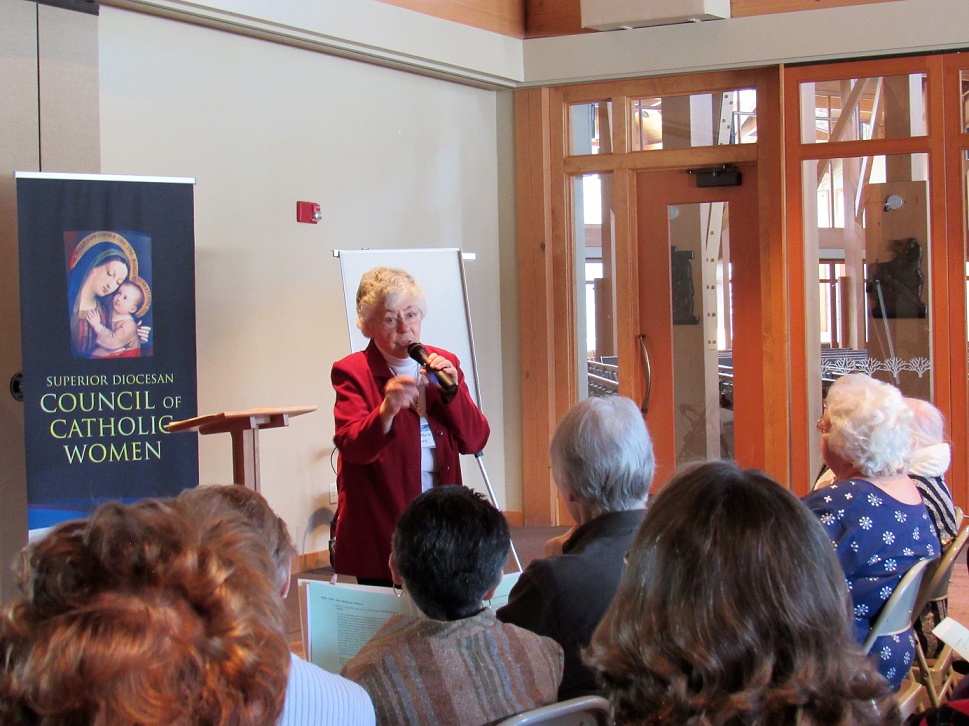 God graced the North woods with sunshine and warmer temperatures as 51 women gathered at Holy Family Parish in Woodruff, WI., on Saturday, Feb. 2, 2019. Women from parts of the Diocese of Superior, Madison and La Crosse attended the Lenten Retreat sponsored by the Superior Diocesan Council of Catholic Women.
The Lenten Retreat was a day designed for contemplation, reflection and quiet meditation. Sr. Anita Beskar, FSPA, and Sr. Marla Lang, FSPA, from the Marywood Spirituality Center, were the presenters for the retreat. Both presenters helped broaden our understanding of our relationship with Mary, who also had human struggles.
Sr. Anita started the morning with scripture readings reflecting on 'Mary as Parent'.
The second presentation was done by Sr. Marla on 'Mary: Mother at a Distance'.  
Sr. Anita presented the afternoon program with scripture readings and discussion centering on 'Mary in Grief'.  
The day culminated with discussion of Mary, how she continues to be a witness to every woman today. Participants then prayed together the Litany of Mary of Nazareth.
Submitted 2/18/19 by Jane Schiszik, SDCCW President-elect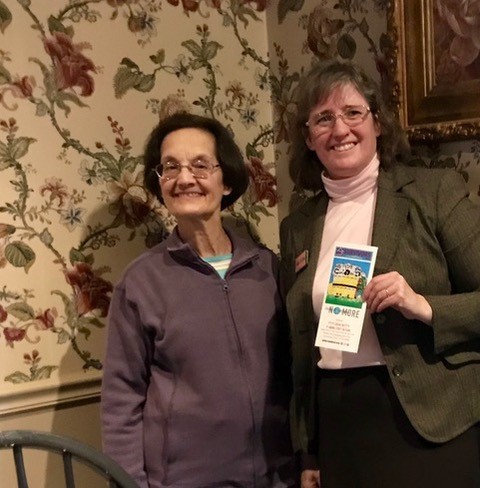 Emily McGinnis pictured here to the right of our PCCW President, Nancy Newbold, was guest speaker at our February 19  meeting.  Emily provided a YouTube Presentation on Human Trafficking.  The presentation depicted many forms of human usage and the scams that might lead a victim to this bondage.  Emily is a mother of five, a Shift Respiratory Therapist at Gettysburg Hospital and is committed to educating the community, especially young people, of this terrible and criminal activity.
Submitted 2/18/19 by Judy Spooner, PCCW Member, 3/14/2019