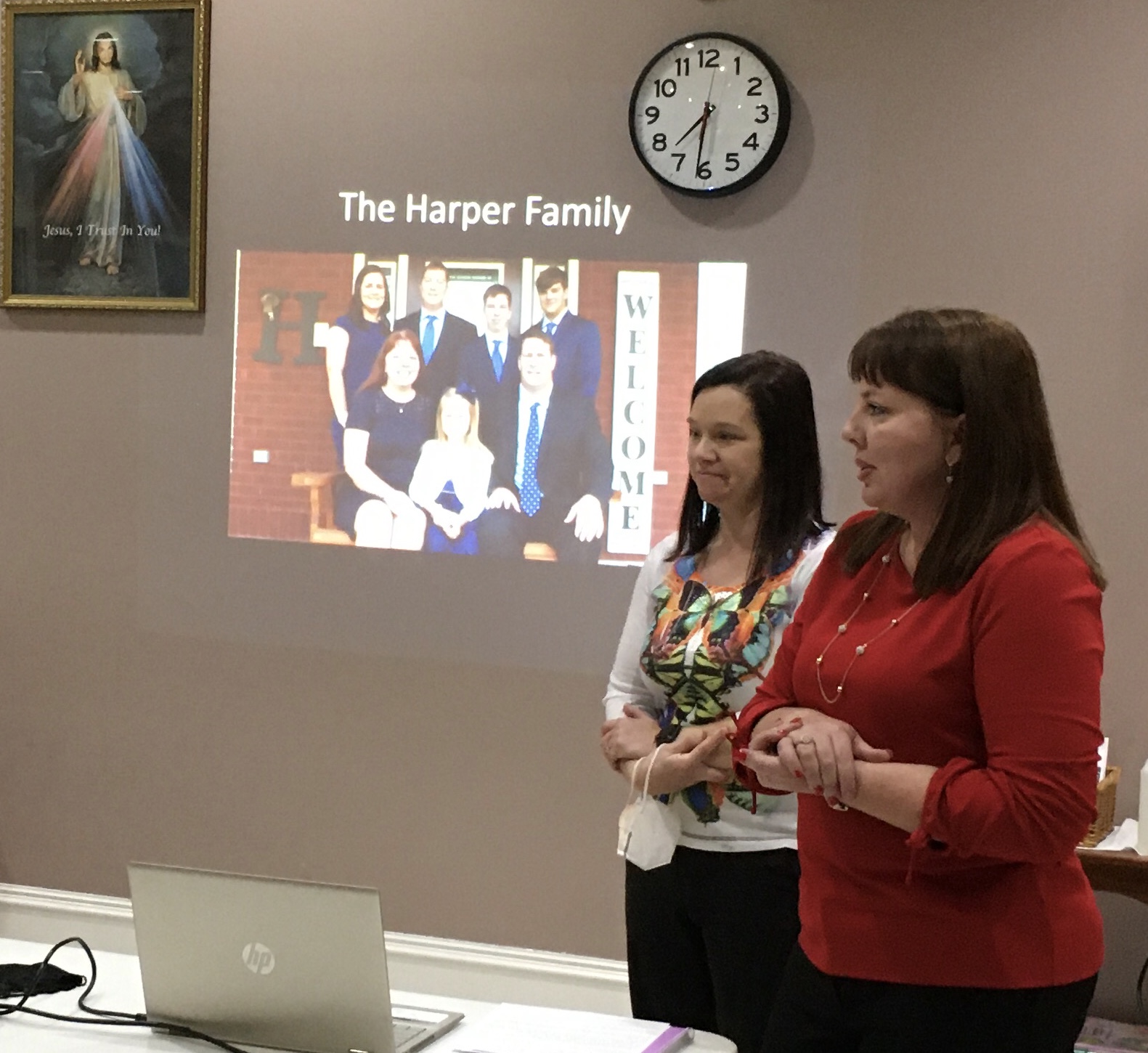 Effingham AFPAG (Adoptive and Foster Parent Association of Georgia) President: Melissa Harper (on right) and Vice President: Christina Blackmon (on left) presented a program at the St. Boniface (Springfield, GA) CCW meeting on January 6. They discussed how to become a foster parent and how to help adoptive and foster parents. This connects with one of the NCCW initiatives called "Walking With Moms in Need" (WWMIN).
Submitted 1/11/21 by Yvette Carr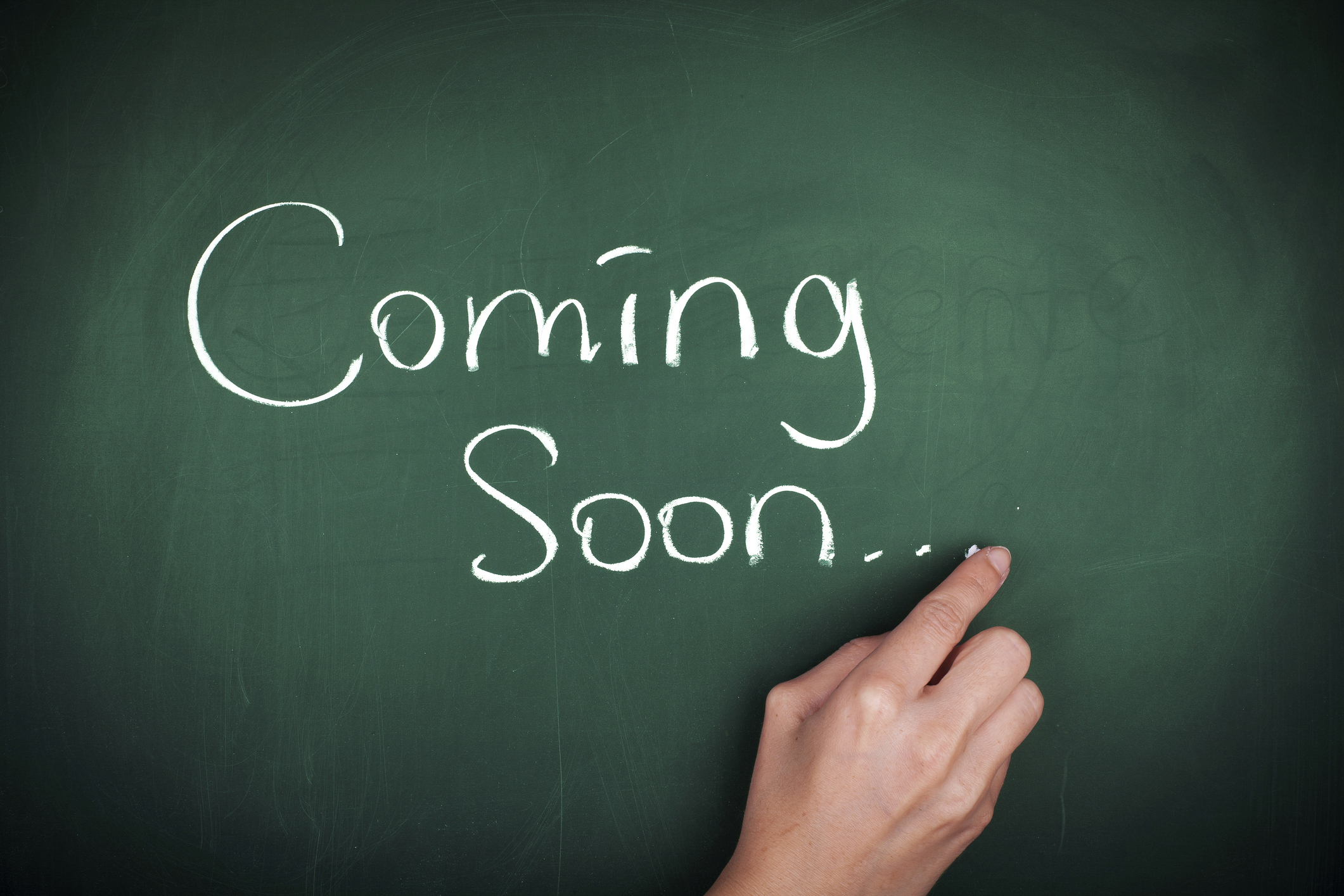 Affiliate Happenings........................................................................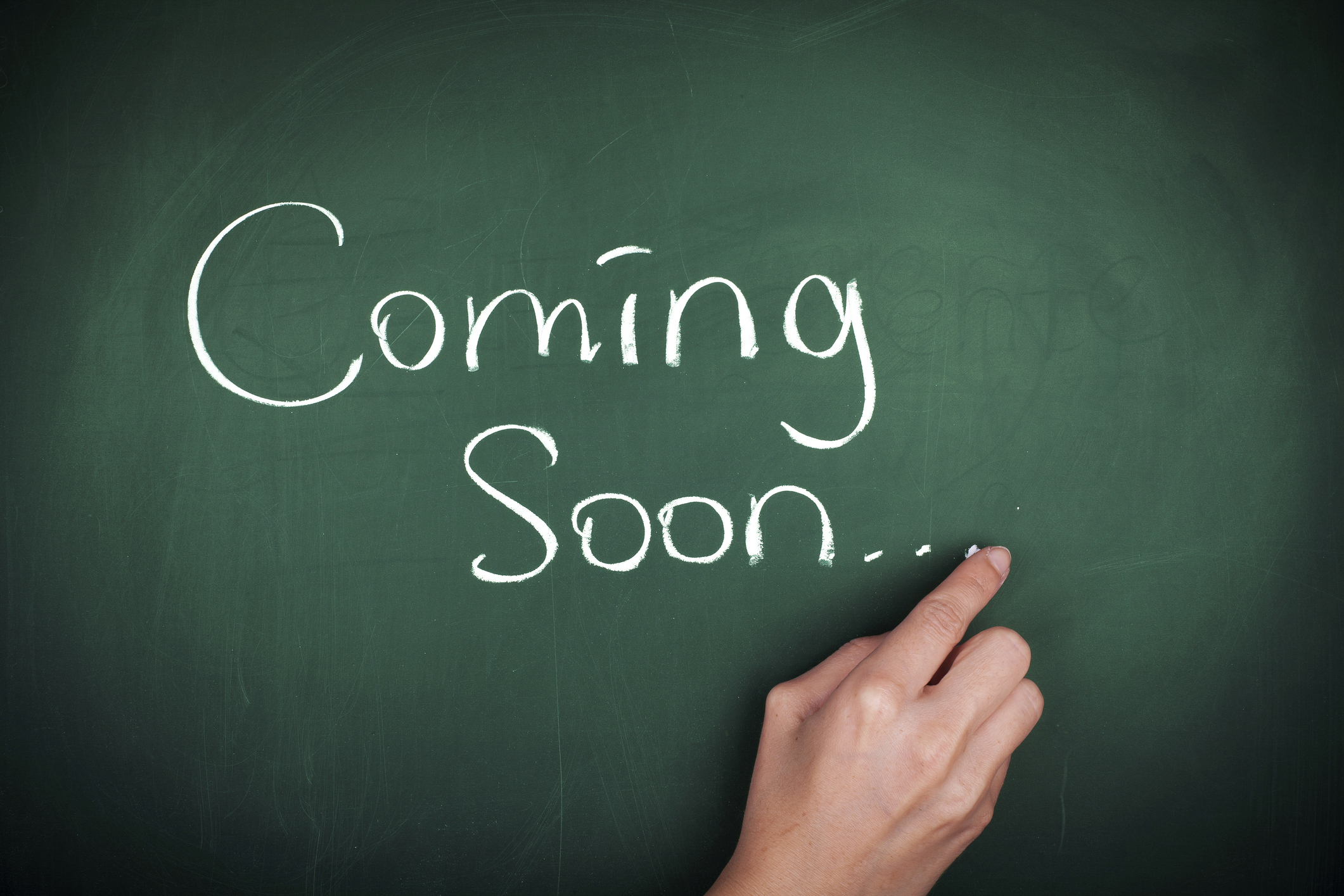 Affiliate Happenings........................................................................
The start of a new tradition, the First Annual Prince of Peace Council of Catholic Women Christmas photo, brought together just some of the 123 members of this dynamic, fun group dedicated to uniting women in Spiritual, Social and Service activities for the betterment of our community.
   Our parish chapter's new motto is "FORWARD IN FAITH" was put into practice by continuing our fundraising events, social activities and leadership while following the Bishop's guidelines.
     We are continuing, with all activities that we can safely conduct as we go FORWARD IN FAITH, with enthusiasm and a positive spirit.
Submitted 12/11/20 by Lauren Morris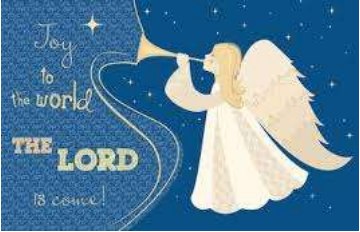 Click here to read a beautiful Christmas message of hope from the Spirituality Commission of the Joliet DCCW.
Submitted 12/17/2020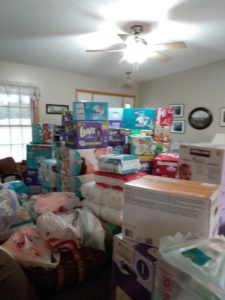 The Lincoln Diocesan Council of Catholic Women conducted their 11th Annual October Pro-Life Diaper drive collecting 143,268 diapers.   The diapers are shared with the Lincoln Diocesan Pregnancy Centers, Catholic Social Services and Birthright.  A total of 1,000,992 diapers have been collected in 11 years.  What a blessing to the help the women in the Lincoln Diocese.
Submitted1/4/2020 by Kay Wessel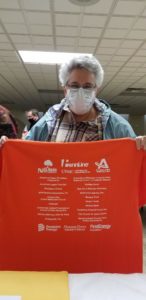 The Greensburg DCCW makes annual donations to the various food banks in our diocese.  One of the food banks, the Westmoreland County Foodbank, printed shirts with all of the organizations who have sponsored or donated this year.  Denise Pencola from the DCCW is holding up the shirt with the Greensburg DCCW name printed on it.
Submitted 12/1/2020 by Raissa Federline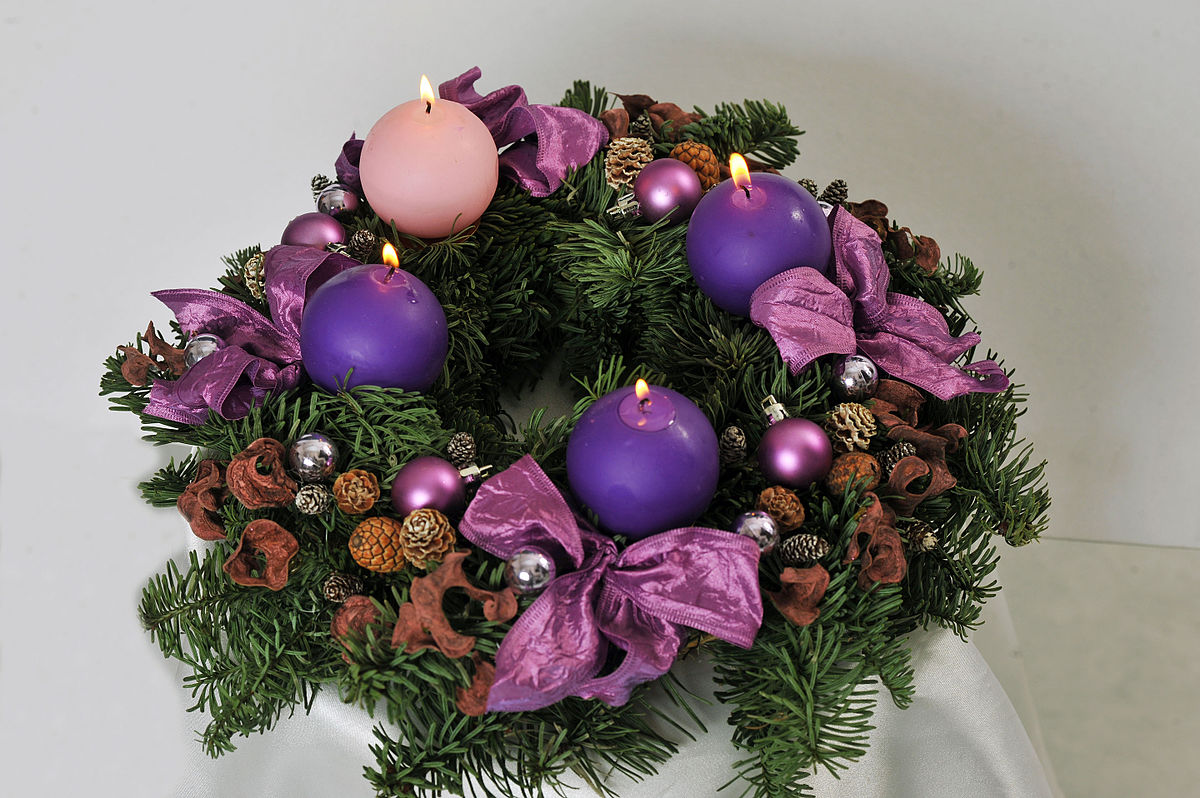 The Knoxville DCCW Service Commission invites you to utilize their Service Project Suggestions for Advent 2020 resource.  This PDF includes a link to a blank Advent Calendar and a list of suggested acts of service.  Note an act of service daily on your calendar using the guide. Lighting the world through our service will be a blessing to all. Invite your children and grandchildren to participate also. Please distribute the suggestions and blank calendars far and wide.
Submitted 12/1/2020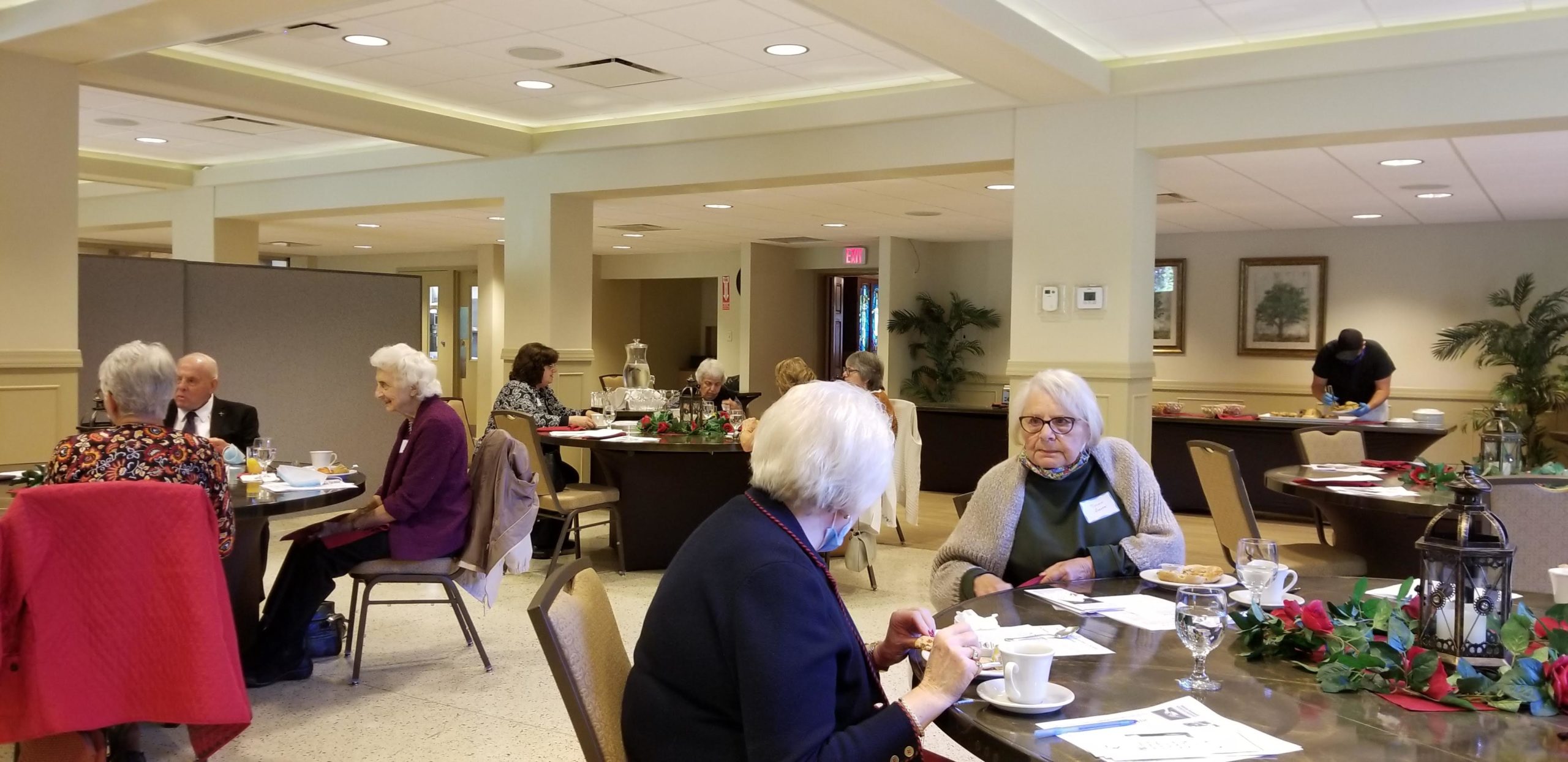 Members of the Pro-Life Committee of the Greensburg Diocesan Council of the National Council of Catholic Women and supporters joined in person and via ZOOM on Saturday, October 3, to share the Pro-Life Joyful Mysteries from Priests for Life before hearing Judy Townsend,  Parent Care Coordinator and Administrative Assistant for Be Not Afraid from Charlotte, North Carolina. Be Not Afraid journeys with families who have received prenatal diagnosis. These families are supported throughout their pregnancies, deliveries, and after. Mrs. Townsend shared statistics about the pressure women get to abort and the lack of education for medical personnel. She also shared that when given the opportunity to carry their child to term, all the mothers and families were blessed by their choice to have more time with their child.  Everyone left with open eyes and hearts for these families. More information can be found at www.benotafraid.net
Submitted 12/2/2020 by Raissa Federline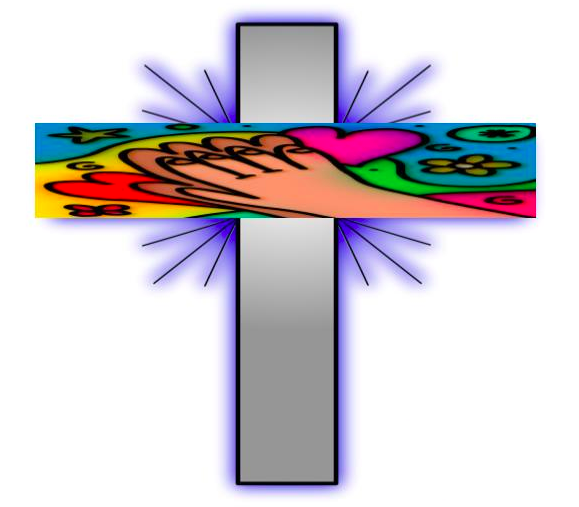 Atlanta Councill of Catholic Women (AACCW) held a Virtual Fall Retreat on September 19, 2020. The retreat was held via ZOOM. The theme was Joining Our Hearts and Hands in Prayer.
We had two great speakers, Father Timothy Gadzialia and Deacon Alfred Mitchell. The importance of Prayer was highlighted in the presentations – what is Prayer, Why we should pray, Kinds of Prayers were some of the topics. We asked the ladies to name something they wanted to pray for and we offered them up in Prayer. A moment of silence was observed for the deceased members of AACCW especially Ms. JoAnn Green, the AACCW Sacristan who recently passed away. We also heard from the newly elected Atlanta Province Director, Mrs. Deanna Holmer.
Submitted 10/2/20 by Cynthia Simien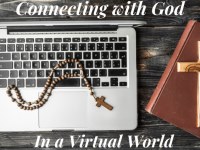 The Belleville Diocesan Council of Catholic Women (BDCCW) held its 2020 convention, "Connecting with Christ in a Virtual World" online October 13 and 14, 2020.
Featured speaker Jennifer Sagel discussed how prayer can counteract the separation many feel during the pandemic. We also had a virtual tour of the diocese and an explanation of the history and role of the BDCCW.
Bishop Michael McGovern's Mass marked the convention's climax on Wednesday.
Submitted 10/22/20 by Gina Einig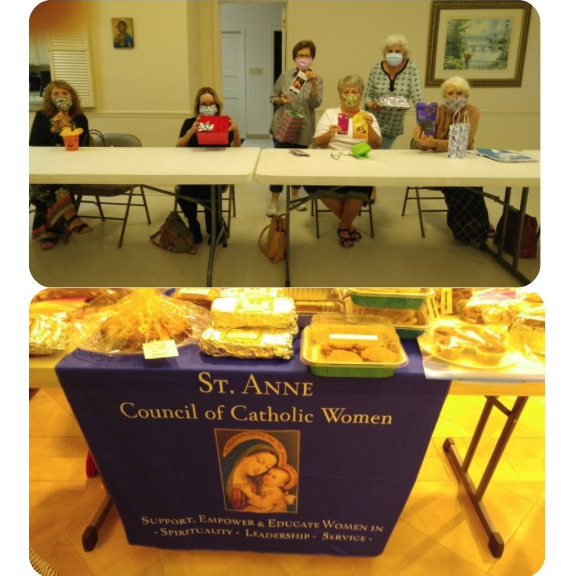 St. Anne CCW Richmond Hill, Ga. in the Diocese of Savannah got back to our social distant meetings in September with a chocolate exchange.  Father Allan McDonald was happy to see that we came together with our masks and safe distance.  During the pandemic shutdown, we continued with Zoom meetings praying the rosary with all affiliates in the Savannah Deanery and just keeping tabs on each other to make sure everyone is ok.  To continue involving as many of our CCW members, St. Anne had a pre-Thanksgiving bake sale.  The majority of baked goods could be frozen to be available for Thanksgiving dinners. The congregation gave generously that the CCW was able to give a donation and payment of our NCCW dues.  We also were able to give $500 to our Capital Campaign to reduce our debt for our new sanctuary.
Submitted 11/20/2020 by Ginny Lovell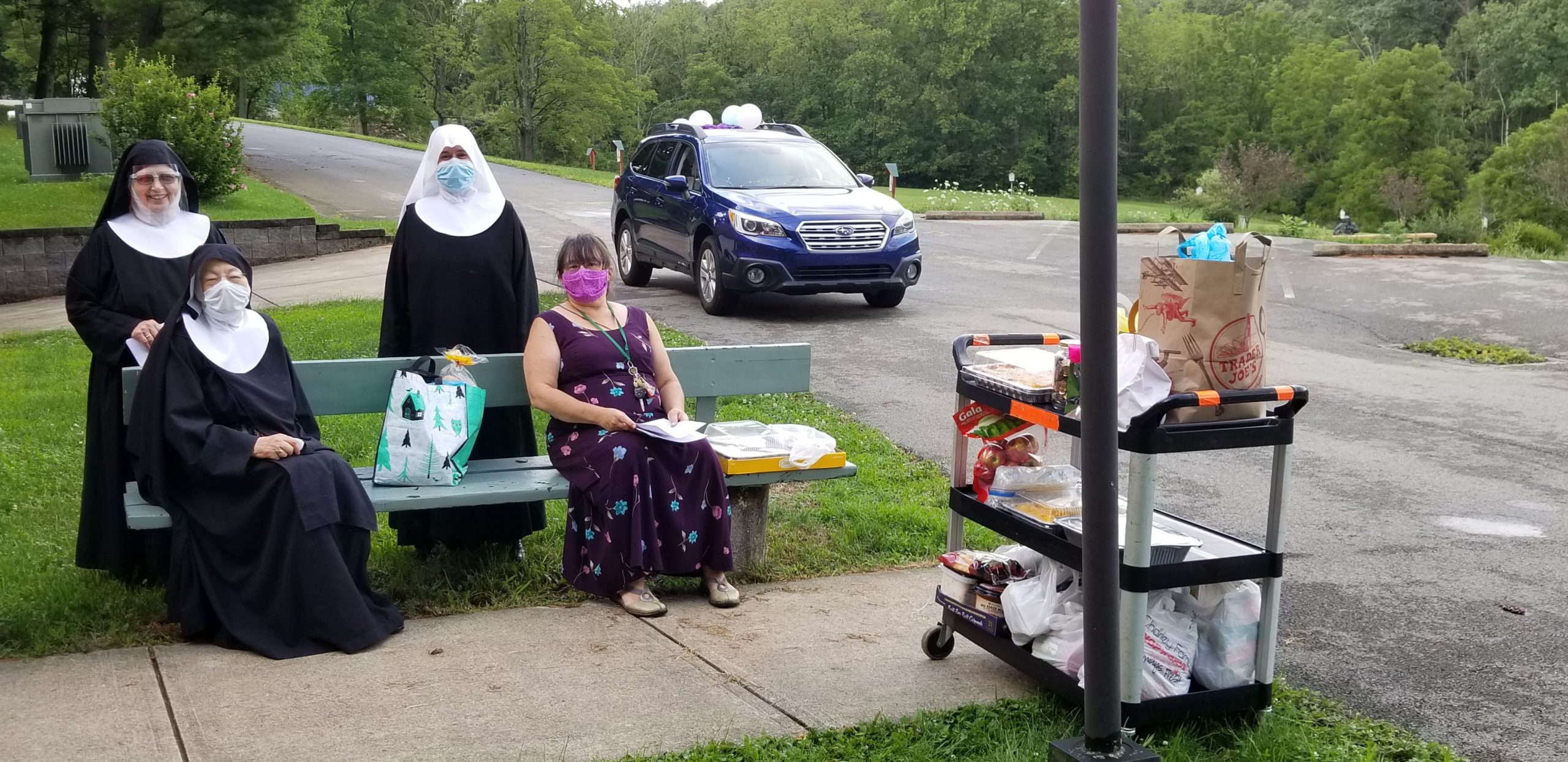 Greensburg DCCW organized a drive by thank you for the Benedictine Nuns at St. Emma's Monastery.  The DCCW usually has a covered dish dinner with entertainment to thank the Sisters for their prayers and hospitality and good works throughout the year, but with pandemic complications, they decided to have 10 cars with people from parishes all over our diocese participate in a drive by thank you. We were masked and social distanced and avoided all near occasions of hugging!
Submitted 8/10/20 by Raissa Federline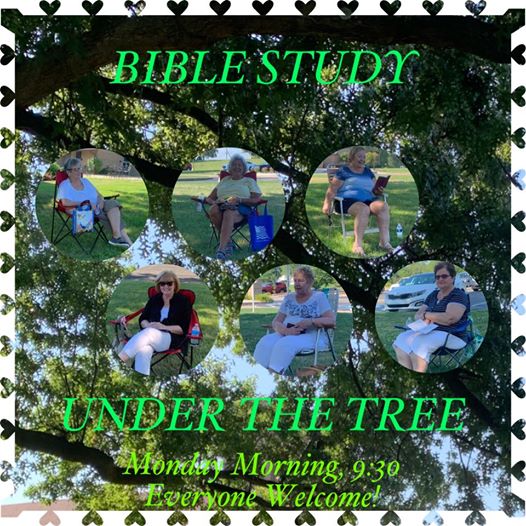 St. Barbara's Ladies Guild has been getting creative during these interesting times to stay connected! They have been meeting for outdoor rosaries and bible studies so that everyone can come together in a safe way.
Submitted 8/20/20 by Raissa Federline

This summer, the Council of Catholic Women-Archdiocese of Washington (CCW-ADW) joined with the Archdiocesan Office for Family Life in presenting an eight-week spiritual series entitled "Finding My Inner Balance." This virtual workshop gave participants a practical approach to their spiritual journey for everyday living.
 Through inspirations and contemplation, the program provided a message of hope to trust in Divine Providence as a means to overcome anxiety or fear. For example, sessions such as The Strength to Simply Cope, Transform Stress into Affection, and The Power of a Relaxed Smile helped participants discover ways to deepen their faith in God.
Submitted 9/17/20 by Carol Monaco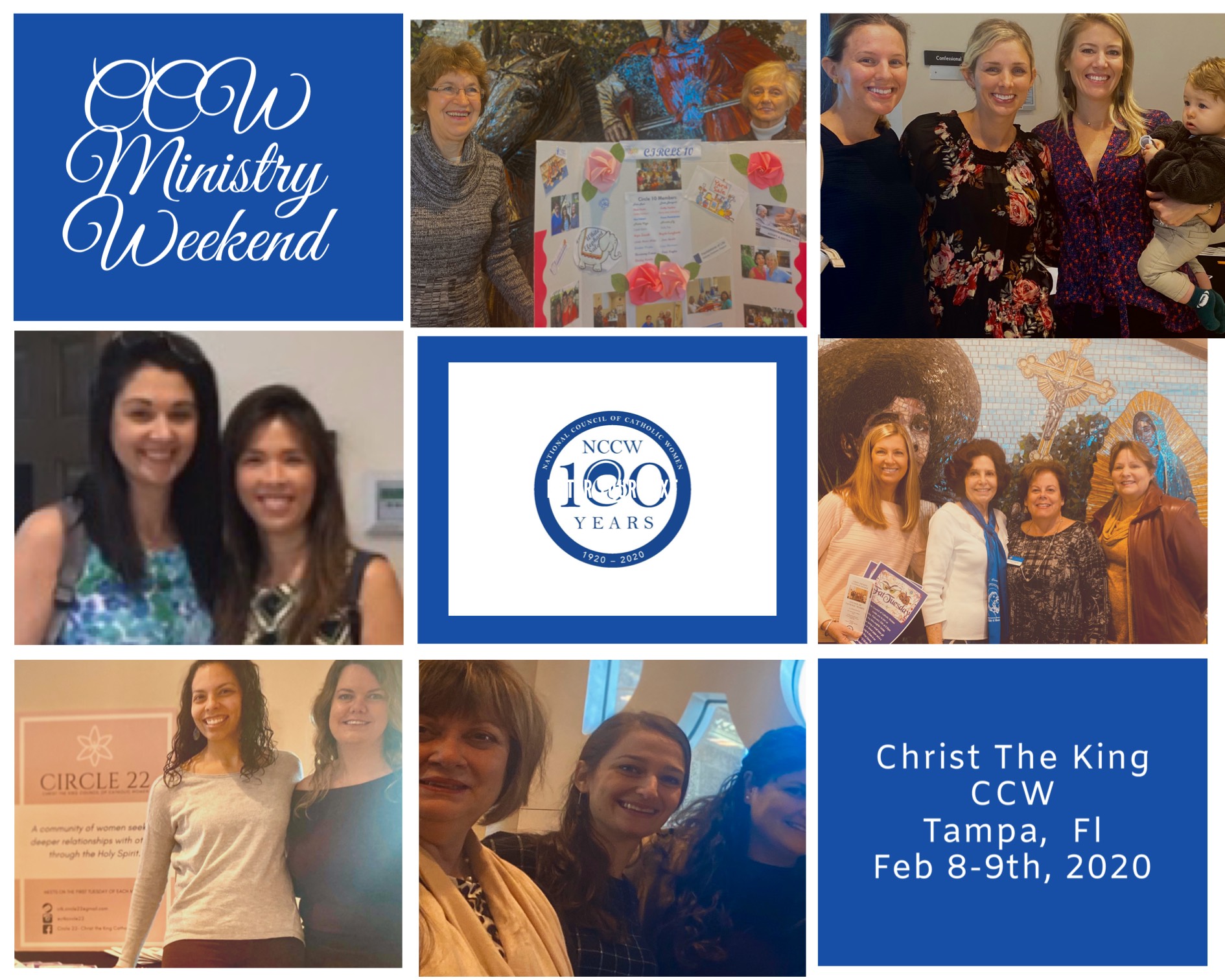 Christ the King Council of Catholic Women in Tampa, Florida  hosted a Ministry Weekend to celebrate the Centennial Year of the Council of Catholic Women. Our theme was Friendship, Fulfillment and Faith. We believe Council of Catholic Women is an organization that connects us socially, fills our spirit, serves our community and cultivates sisterhood. Our goal was to extend a warm welcome to interested ladies of the parish.
We have 247 members in our Council. To celebrate the centennial, a team of CCW members prepared a 1 1/2 minute video which was shown after each Mass.  A team of CCW volunteers from each of our seven CCW "Circles" hosted their own Circle Table to meet and greet ladies of the parish, learn more about their interests and help ladies to find a welcoming home in Council of Catholic Women and one of our distinctive Circles.
Submitted 4/22/20 by Colleen Brown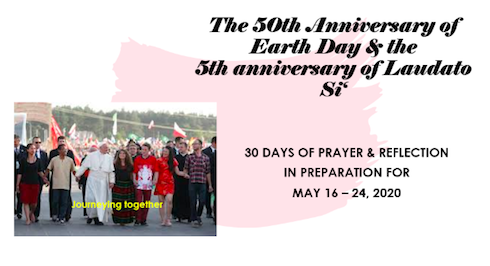 The Venice DCCW took information from Service Commission Chair Mary Anne Cummins' article on the 50th Anniversary of Earth Day and the 5th Anniversary of Pope Francis' encyclical, Laudato Si', and adapted it to a timeline that fit our current situation. 
They developed a short PowerPoint Presentation introducing the project to our Affiliate Presidents and emailed it along with a copy of the 30-day reflections to share with members.  They asked that they share this with members so we could all pray together before each of us made a personal commitment to take an action to save our planet. 
They have been sending daily reflections by email to their presidents so they may share with their members.  At the end of the project, they will ask for a response from members on actions taken as a result of this 30-day journey.  They hope to compile a list of actions taken to share with everyone.  The goal is to keep our members united in prayer and action during these days of confinement and contribute our efforts to saving the environment. 
Submitted 4/21/20 by Becky Harper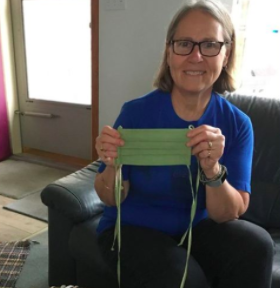 Members of the Archdiocesan Council of Catholic Women (ACCW) have been helping protect clergy and the people they serve from COVID-19 by making masks for every priest and seminarian.
Click here for the full article.
Submitted 4/28/20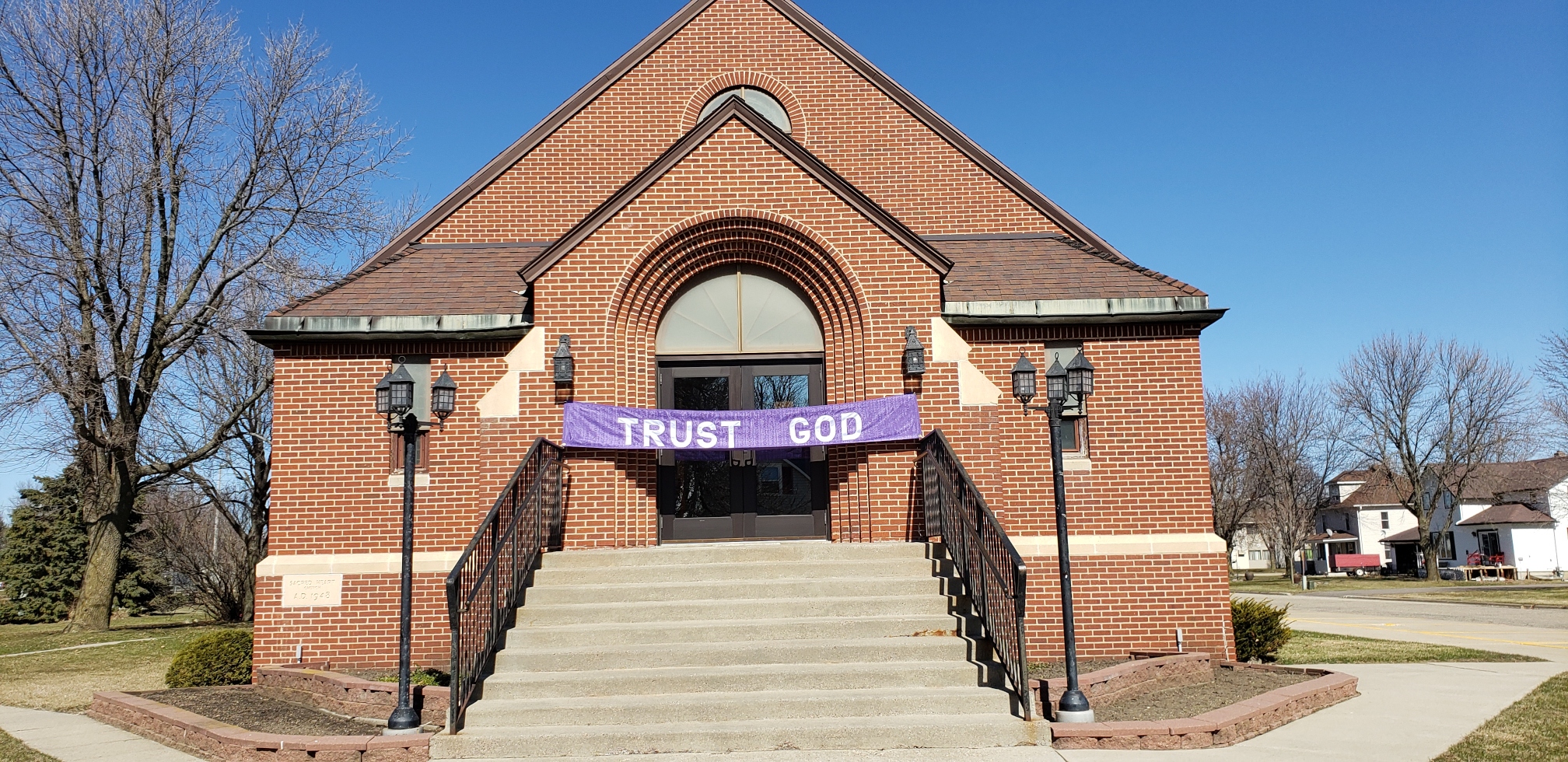 Banner of HOPE for the Community
The Sacred Heart Church Secretary, Loretta Smith had the idea to put a banner on the front of our Parish here in Brewster Minnesota. So, after a few emails and ideas being tossed around. The words "TRUST GOD" were chosen. This is a message of hope for our Sacred Heart Parish family and as well as for our whole community of friends during this time of COVID-19 with all churches closed in our Diocese. We must continue to pray and trust God!
Maker of the banner: Bev McCarvel-Past NCCW Leadership Chair
Submitted 4/2/20 by Bev McCarvel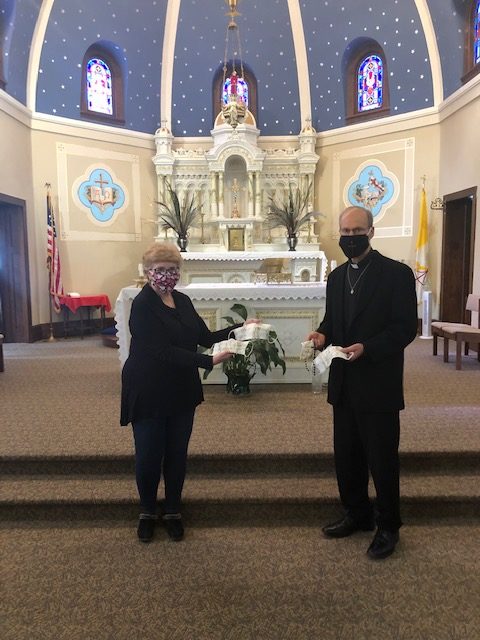 Dubuque ACCW members are making face masks for all the priests both active and retired in the Dubuque Archdiocese including the Archbishop for a total of 170 priests.  Pictured is Father Jerry Blake, priest of the Holy Family Cluster at Clarion, Iowa, and a member of the local Council of Catholic Women (Altar Society) Monica Staudt.  Monica, a former nurse, has made over 200 masks for her local hospital as well as her priest.  We thank our Spiritual Advisor, Rev. Dan Knipper, for the inspiration to carry out this effort.
Submitted 4/7/20 by Florine Swanson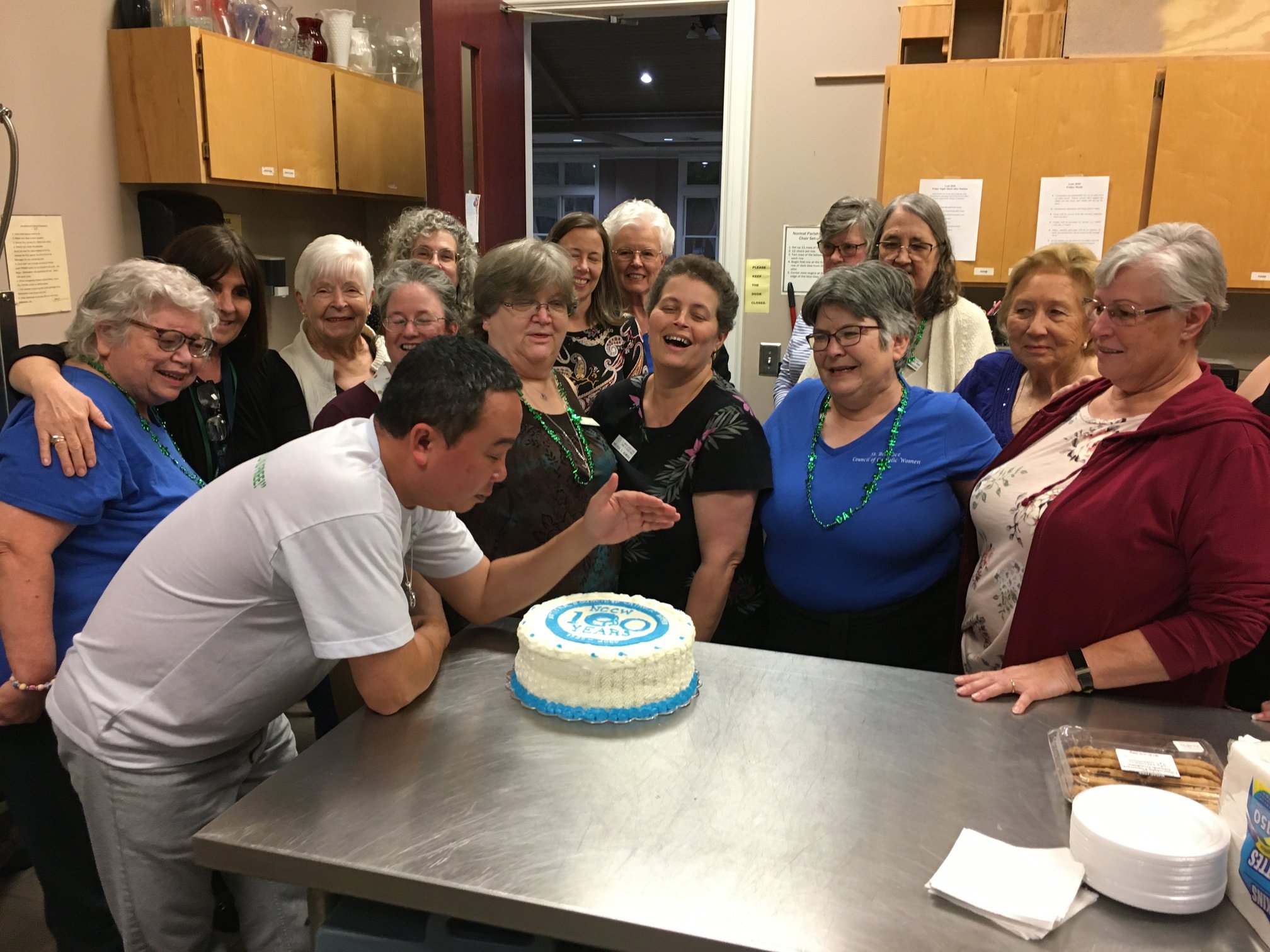 At its meeting on March 11, St Boniface CCW (Springfield, GA) celebrated NCCW's 100th birthday.  Melissa Almeida (CCW's newest member) made the beautifully decorated and delicious birthday cake that everyone enjoyed.  Our pastor, Fr. Martino Nguyen, appears to be blessing the cake!
Submitted by Yvette Carr (NCCW Province Director of Atlanta and member of St. Boniface CCW)

During the March 4, 2020, Catholics at the Capitol Day held in Lincoln, NE, Catholic ladies gathered for a picture with a 100th NCCW anniversary cake furnished by the arch/diocesan councils of the Omaha Province.
Submitted 3/5/20 by Susan Johnson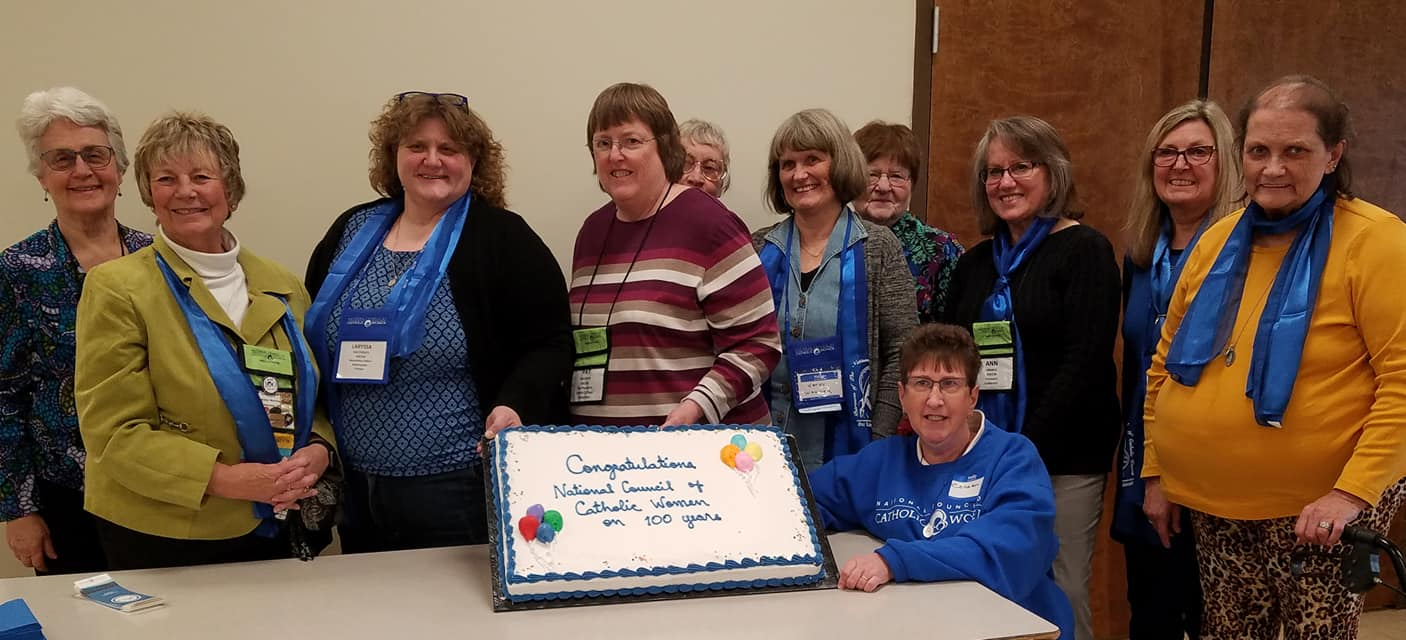 The Kalamazoo Diocesan Council of Catholic Women recently celebrated the National Council of Catholic Women's 100th birthday. NCCW was organized by the US Bishops in 1920 to unite all Catholic Women and organizations. The birthday party was celebrated at a Lenten Day of Spiritual Renewal, THE REAL PRESENCE, for the women of the Kalamazoo, Michigan Diocese.
Submitted 3/12/20 by Carolyn Morrison

As we face this period of social distancing and other restrictions, including the cancellation of public Mass in the Archdiocese of Washington (ADW), the Council of Catholic Women-ADW has extended its nightly Rosary call to include Sundays and we have established a coronavirus prayer resource page on the CCW-ADW website. CCW-ADW also has offered its help to the Archdiocese in whatever way it can during this time. In addition, the Archdiocese has agreed to include information on CCW-ADW's nightly Rosary call in its Parish Briefings, inviting all to join in our nightly prayer call.  We hope that these calls will help keep us all united in prayer.  Here is the link to the web page:  https://www.councilofcatholicwomen-adw.com/coronavirus-prayer-resources
Submitted by Carol Monaco 3/18/20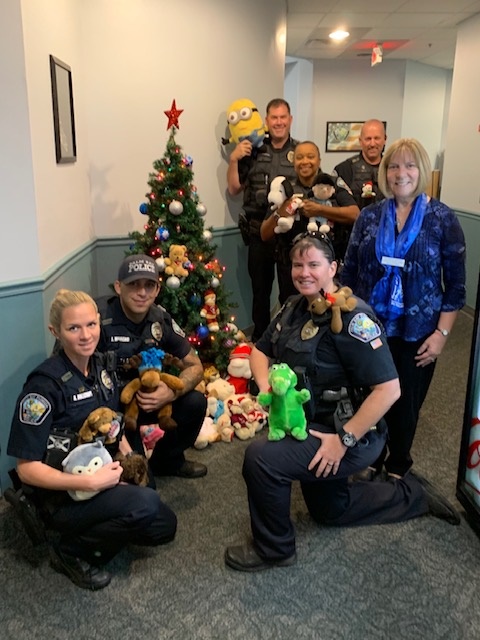 St. John the Evangelist CCW
Fears of Traumatized Children Soothed by Stuffed Animals Provided by CCW
When Amanda Hollcroft, a police officer, asked her mom, CCW Member Kathy O'Conor, for help she did not know what to expect.  Amanda told her mom that for a long time, she and the police officers of the City of Palm Bay, FL had been purchasing stuffed animals to use in domestic abuse and other situations where young children were traumatized by violence or accidents.  These soft, cuddly and soothing stuffed animals, purchased by the officers, were kept in their car trunks for these types of situations.  When the children were removed from the scene and given a stuffed animal, it wasn't long until tears dried, and the children were naming their new cuddly animals and the trauma began to fade for them.
The pictures show the result of how the membership of St. John the Evangelist CCW, Viera, FL ladies came to the rescue of traumatized children to sooth their fears.
Submitted 1/28/2020 by Linda Trucano – St. John the Evangelist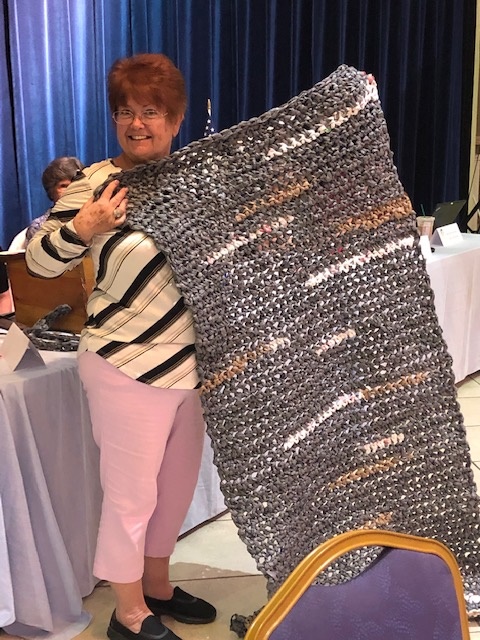 St. Thomas Aquinas CCW decided to re-purpose thousands of bags to crochet sleeping mats for the homeless.  500-700 bags are needed to make the 'plarn' used to crochet the mat. So far, the women have completed 5 mats, which will be delivered to homeless camps in Osceola County by Pescadores De Hombres (Fishers of Men), a ministry at Holy Redeemer Church in Kissimmee, FL.
Submitted 2/19/2020 by Mary Anne O'Shea
Lincoln Diocesan Council of Catholic Women
The Lincoln Diocesan Council of Catholic Women collected, at the February Winter Symposium, items to assist the homeless.  The donation request response was overwhelming with boxes and boxes of personal care items as well as many sleeping bags.
Submitted 2/25/2020 by Kay Wessel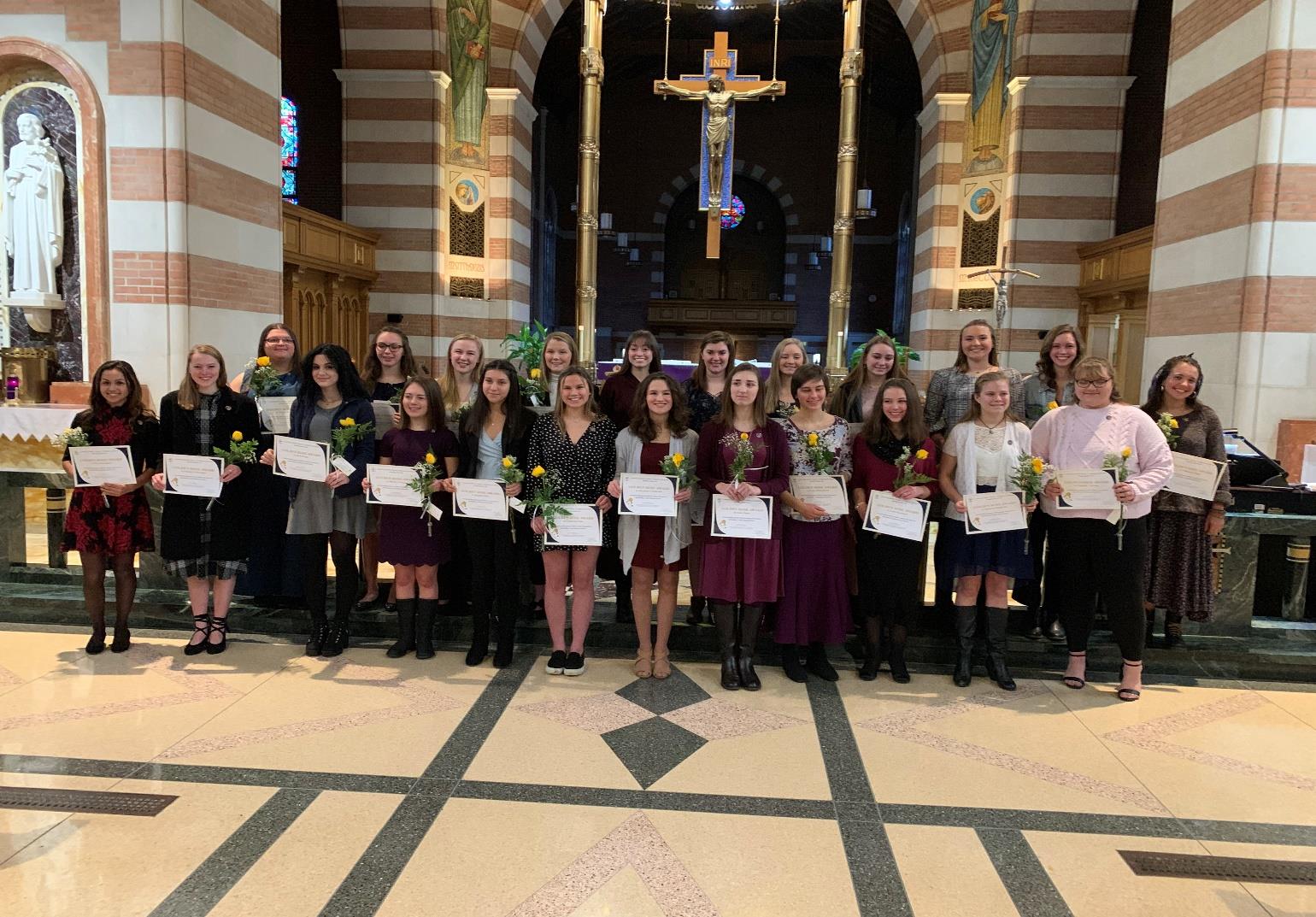 Council of Catholic Women / Archdiocese of Detroit's 1st Golden Rose Award Ceremony took place on Saturday, December 7, 2019 at the Felician Sisters Motherhouse Chapel in Livonia, Michigan. The morning began with Mass, followed by a luncheon. Twenty-four high school students, from the metro Detroit area, were awarded the Golden Rose Award. They were recognized for showing Spirituality, strong Leadership and ongoing Service in their parish and school.
Submitted 1/6/2020 by Zora Dziurman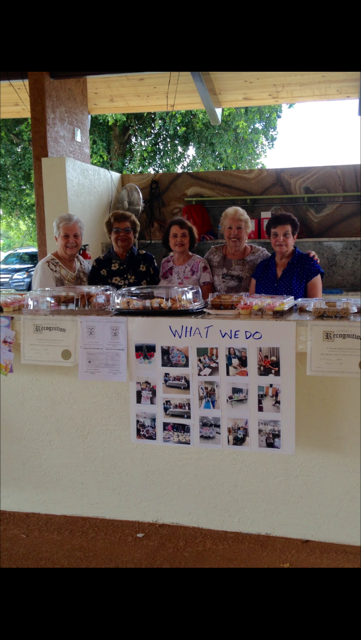 St. Vincent CCW celebrated their 10th Anniversary the weekend of Oct 26th & 27th, 2019. They invited all of the Communities (Spanish, Brazilian & English) to partake in the celebration. They displayed pictures from their events and fundraisers and the certificates they received over the past 10 years so the parish could see what the CCW is all about. It was a big success!
Submitted 1/6/20 by Flo McGrath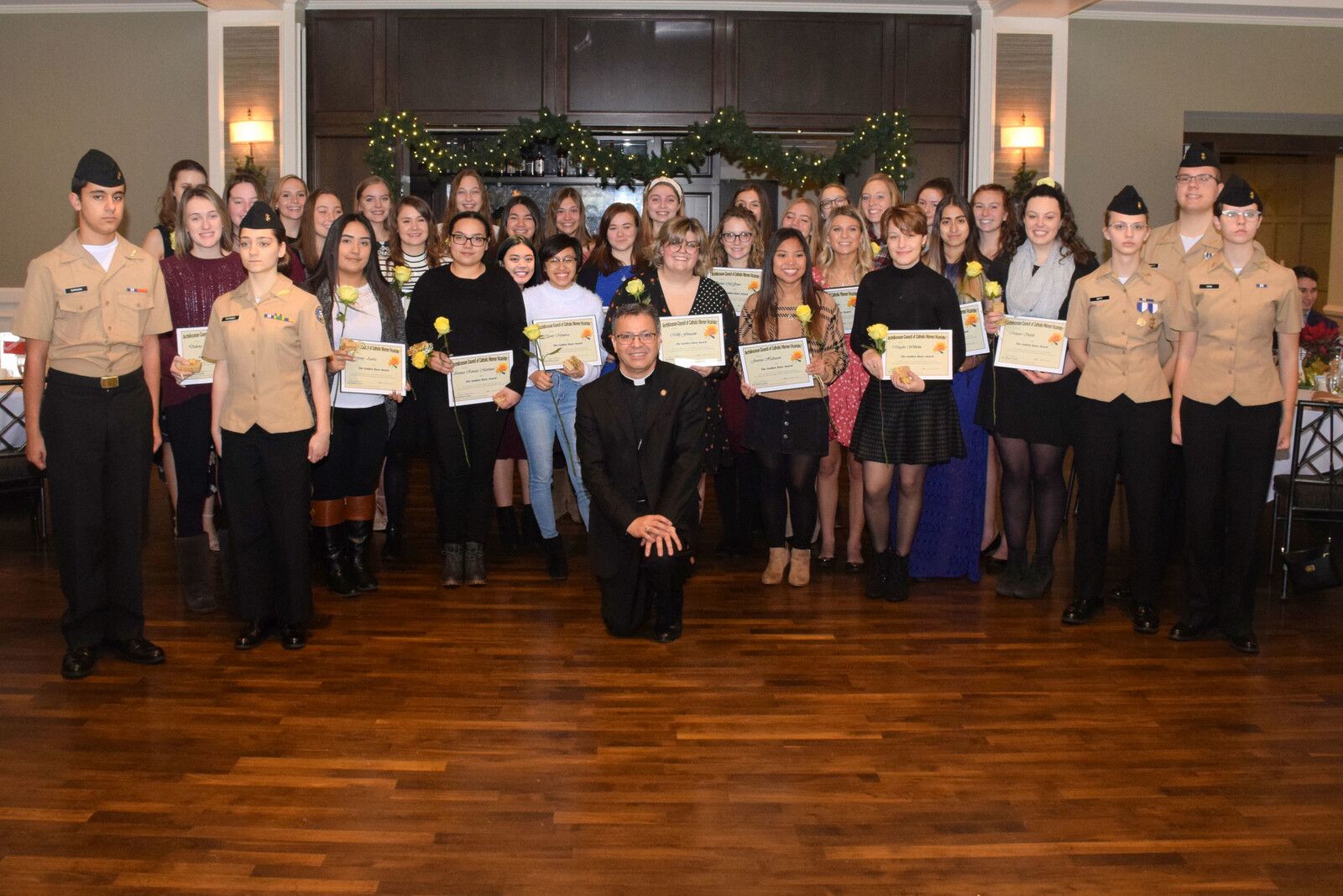 Vicariate I of the Archdiocese of Chicago recently held a Golden Rose Breakfast event featuring 30 high school recipients, Bishop Alberto Rojas and the cadets of Highschool District #214 were present for the event held on December 7, 2019.
Submitted 1/23/2020 by Evelyn Getty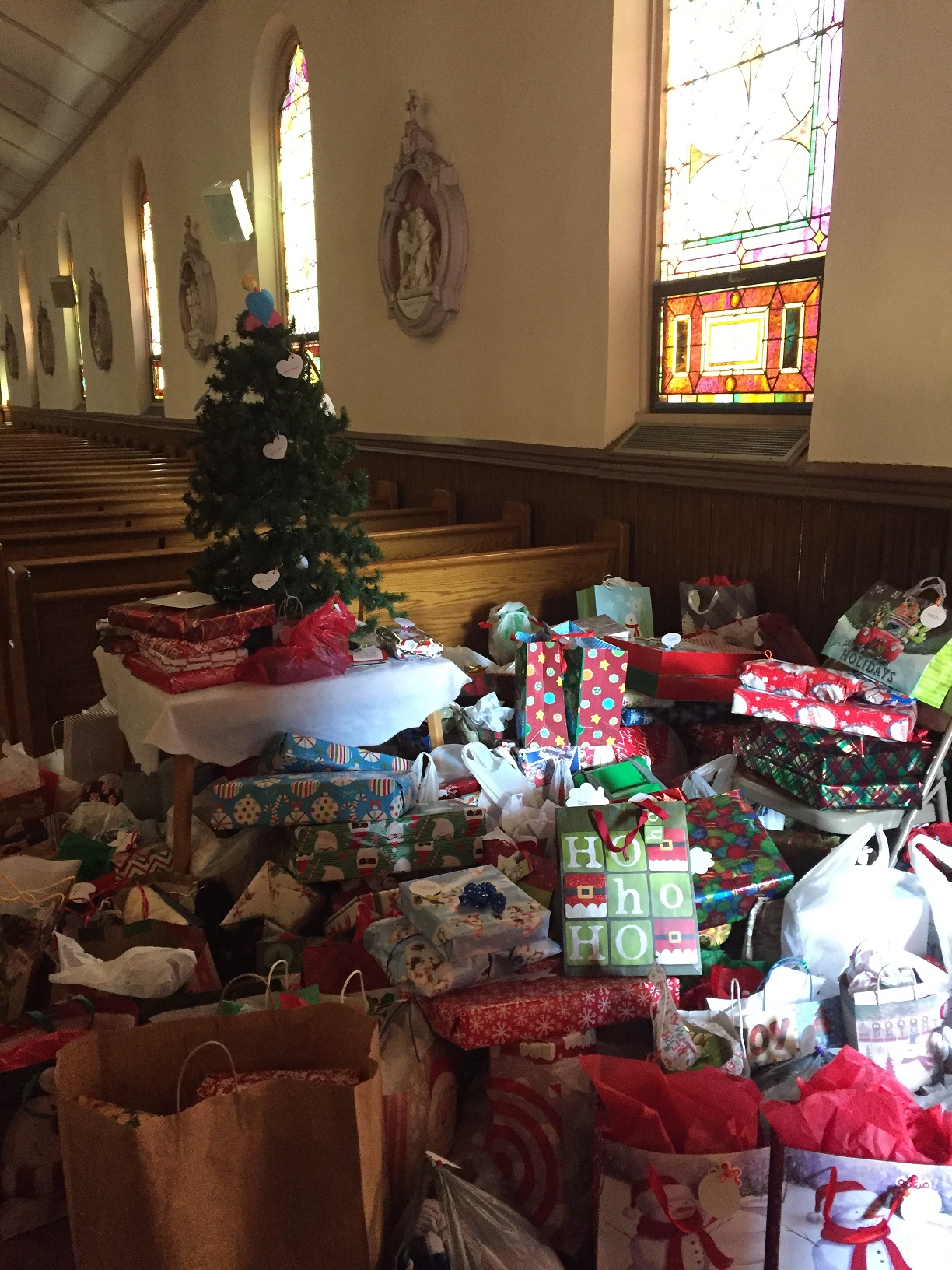 St. John XXIII Ladies Guild CCW
The St. John XXIII Ladies Guild CCW of West Haven, CT organized a parish Giving Tree that resulted in over 500 gifts donated for area shelters, nursing homes, local families, and community programs.
Submitted 12/10/2019 by Maribeth Stewart Blogoslawski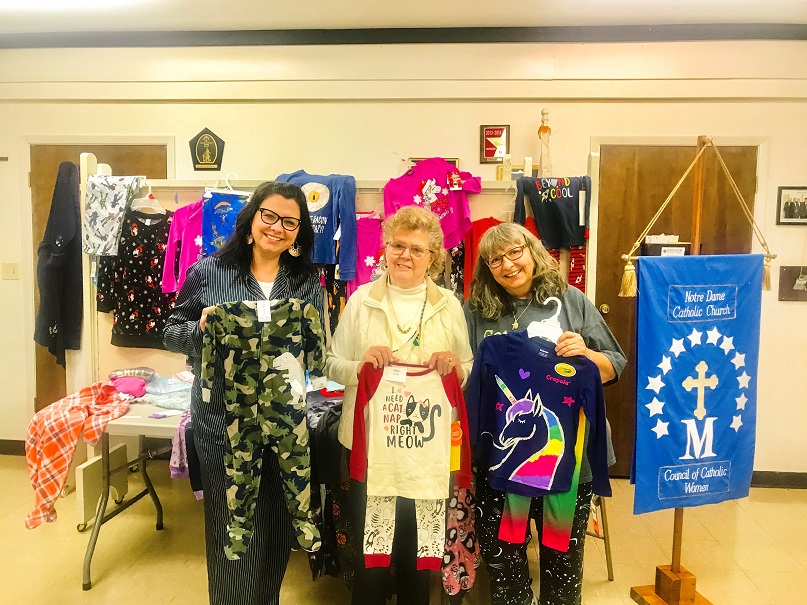 Each year the Notre Dame CCW hosts a baby shower to stock the local pregnancy center shelves--volunteers help on delivery day and days before doing setup for Gifts for Kids, they raise awareness for foster care and mentoring needs in the community and more.  They invited the Chair of Gift for Kids in Greeneville to a meeting and presented her with over 500 pairs of pajamas for kids who are currently considered homeless in Greene County. She had 650 kids apply for gifts and pajamas this year--the CCW has a goal to have the remaining 100 or so pairs for her before the month is up.
Submitted 12/10/2019 by Erin Turner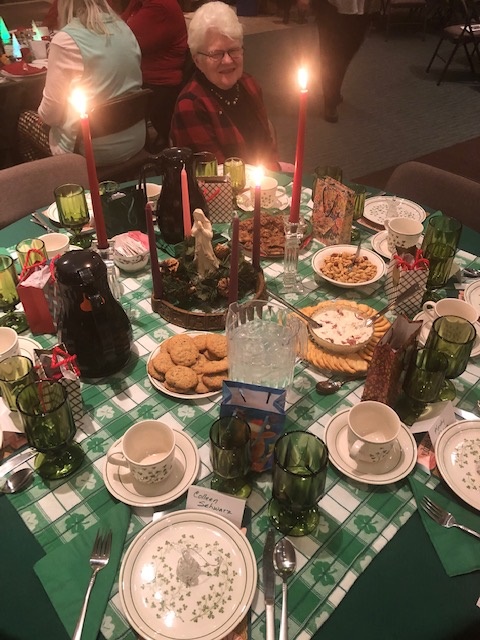 St Mary's Visitation in Elm Grove, WI hosted a beautiful "Advent by Candlelight" event to celebrate the season!
Submitted 12/16/19 by Jean Kelly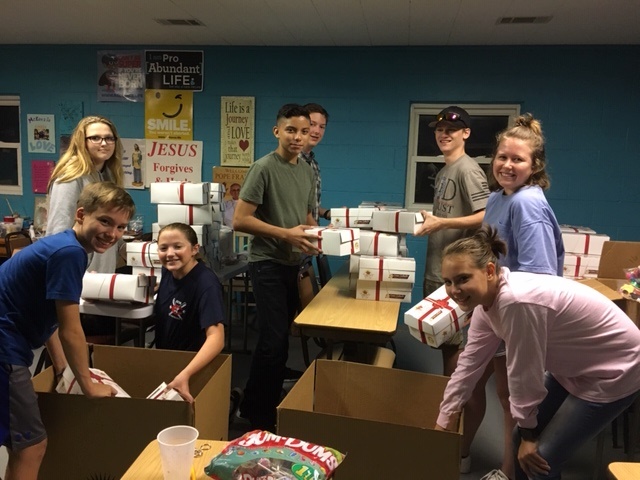 "We dropped off 96 Boxes of Joy at the distribution center in Savannah, GA from our small church (St. Boniface in Springfield, GA) which has approximately 300 registered families. This was the first year we participated and our initial goal was 50 Boxes!"
Submitted 9/27/2019 by Yvette Carr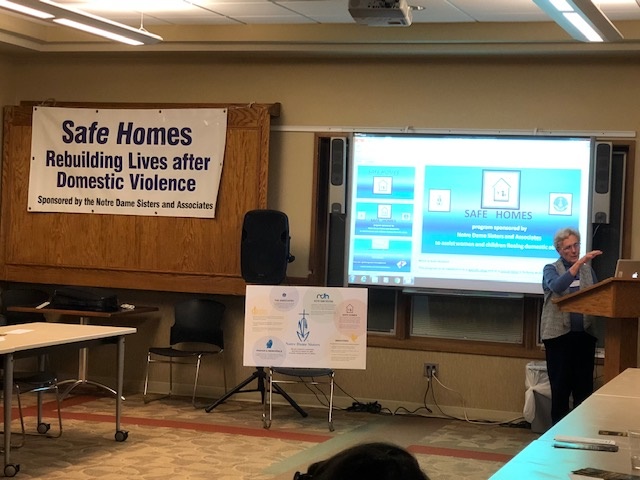 St. Stephen the Martyr CCW
With the support of our priest, Fr. Dave Belt, and parishioners, the CCW collected $2000 for Safe Homes a place for women and children to begin a new life outside domestic violence – a fresh new start.  On Tuesday, November 5th, I had the privilege of delivering a $2000 check  to Sister Mary Kay for Safe Homes that allows women and children to begin a new life free from domestic violence.  Sr. Mary Kay gave us a presentation how donations are used.
Submitted 12/3/2019 by Gigi Stamp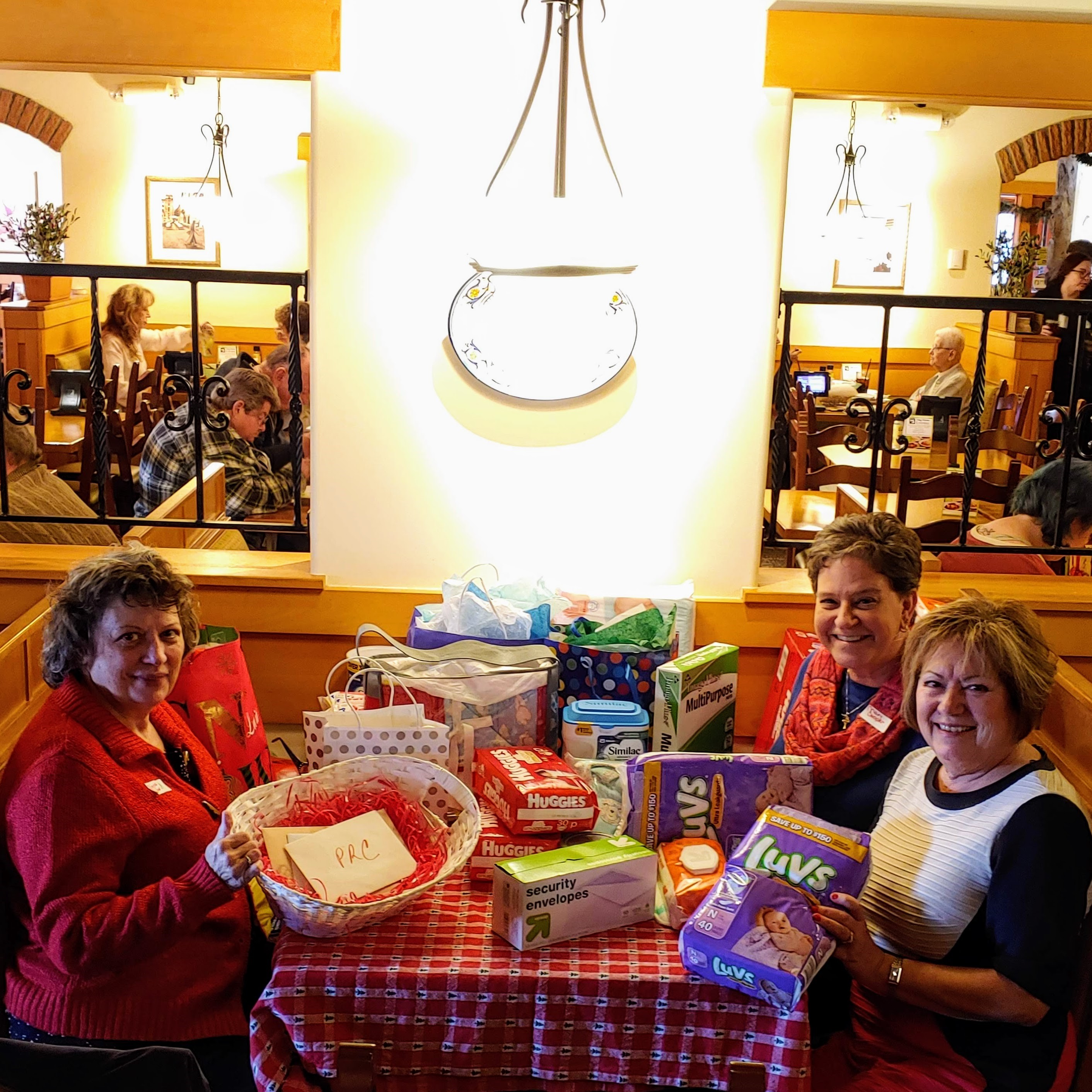 Our Lady of Fatima CCW (Alcoa, TN) held their annual Christmas Luncheon/Baby Shower for Mary in early December. Attendees donated an item on the Needs List for the local Pregnancy Resource Center.
Pictured (from left to right): Diane Biber-Treasurer, Mary Cooper-Secretary, Liz LeBrun-President.
Submitted 12/5/2019 by Our Lady of Fatima CCW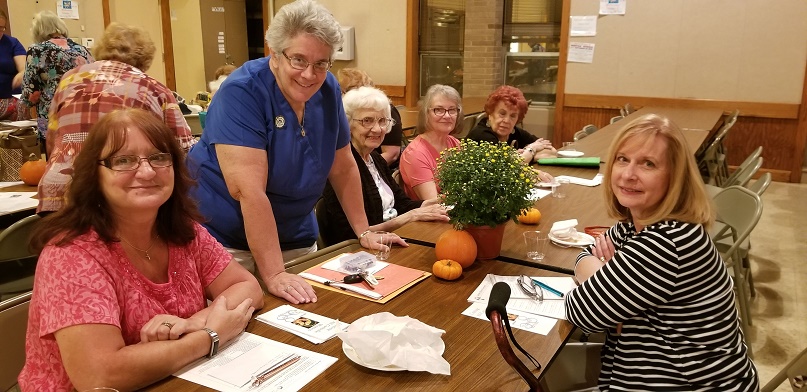 Thursday, September 16, Greensburg DCCW hosted a 'NCCW 2019 Convention Highlights' gathering at St. Barbara Parish in the Greensburg Diocese. President, Raissa Federline, along with Immediate Past President, Denise Pencola, shared about the the DCCW/NCCW connection.  Melinda Young, member and GDCCW Spirituality/Family Commission Chair shared about her first NCCW convention. We encouraged women to get involved and consider attending the 100th anniversary convention in Washington, DC next year.
Submitted 9/27/2019 by Raissa Federline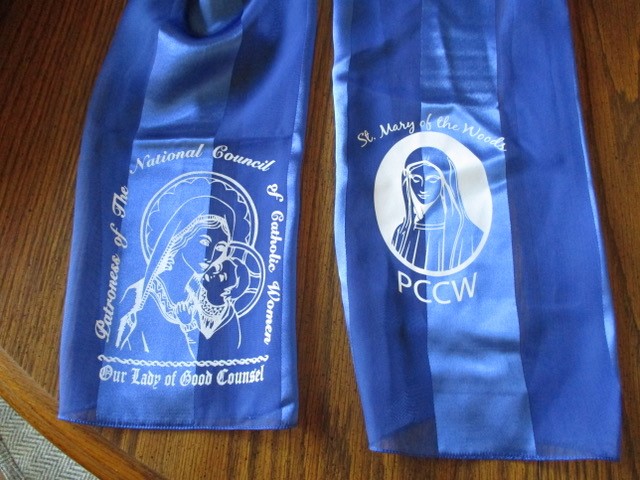 St. Mary of the Woods PCCW
St. Mary of the Woods PCCW ladies came up with a great idea to customize the NCCW scarves with their own logo on the other end, to represent both National and their own parish.  Awesome idea!
Submitted 11/5/2019 by Rita Maher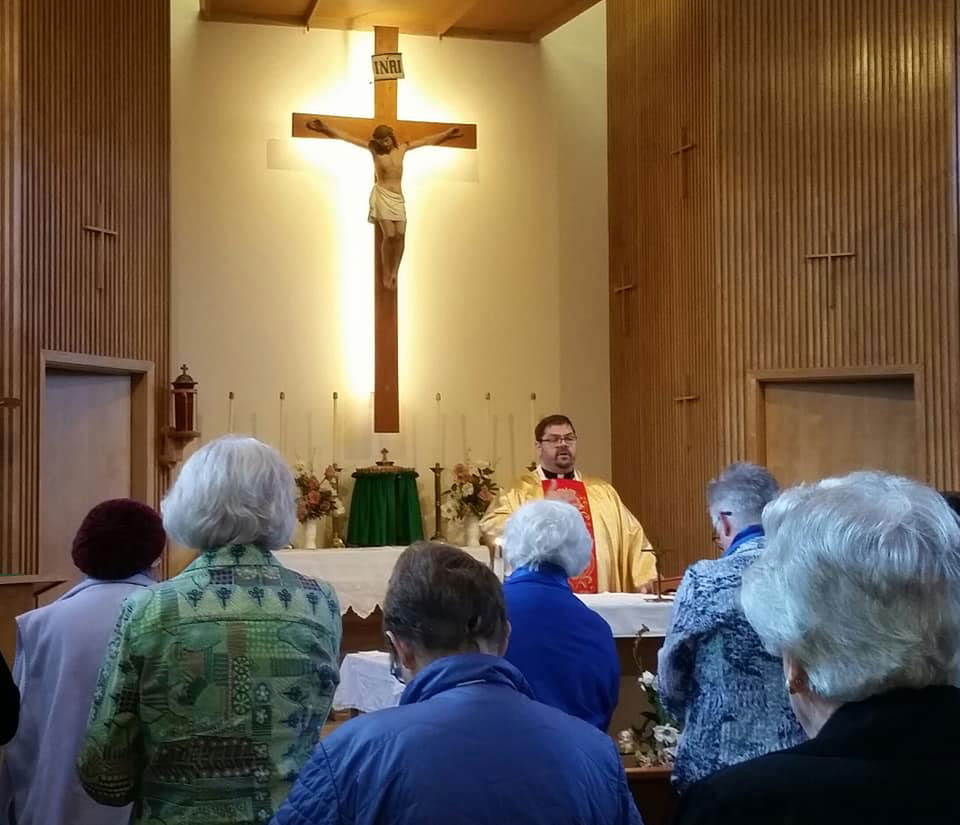 Father Andrew Thomas led a day of recollection for the Archdiocesan Council of Catholic Women Oct. 8.
Father Thomas discussed his own vulnerability while he was in seminary facing health challenges and the sudden death of his mother. He learned to pray, at all times and in all circumstances, he told the group.
In a talk titled "Take 5 and Pray," he advised building on the foundations of daily Mass and rosary. Suggesting that any occasion may spark the need to pray, he explained that a particular mystery of the rosary may apply to a need.
Members of the ACCW thanked the Franciscan Missionary Sisters of Our Lady of Sorrows and their volunteers, who hosted the day at Our Lady of Peace Retreat in Beaverton.
Submitted 11/7/2019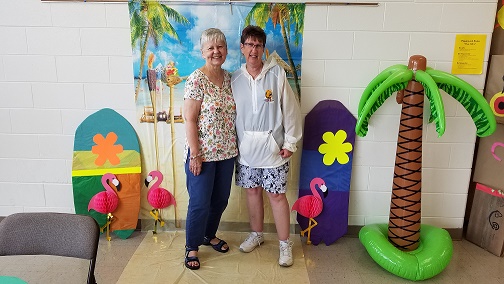 The Council of Catholic women of St. Joseph in Battle Creek hosted a card party, where ladies of the community gathered to play their favorite game. Pictured is Mary Sue Avery and Colleen Vitale in front of the Hawaiian themed photo booth.
Submitted 5/24/2019 by Colleen Vitale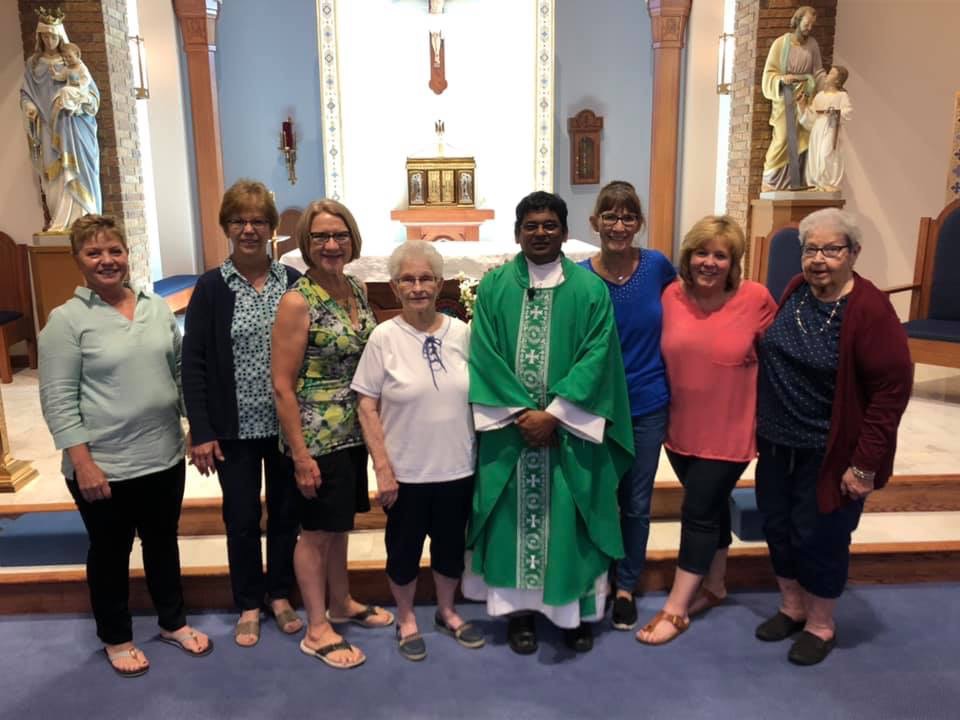 Seven Sisters Apostolate group at Holy Spirit parish, North Platte, NE located in the Grand Island Diocesan Council of Catholic Women, both of which are Affiliates of the NCCW
L-R: Rosie Albertson, Jeanne Pieper,Sherry Weatherly, Janie Davis, Fr Sagar, Kari Richards, Diane Lee, and Dottie Koubek
Submitted 6/27/2019 by Sherry Weartherly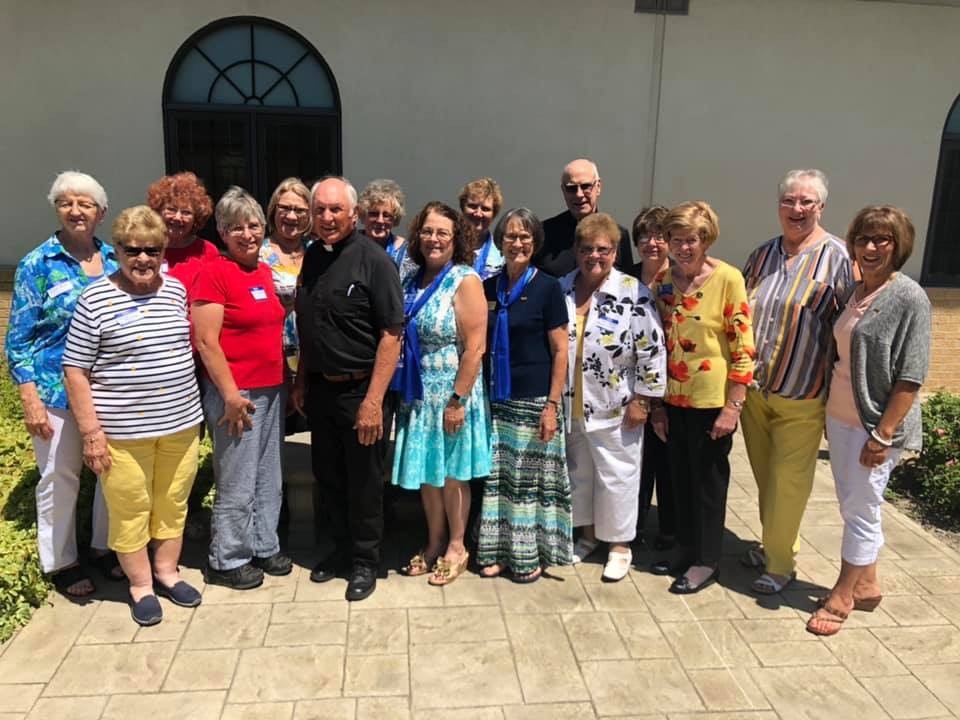 The Province of Omaha of the National Council of Catholic Women (NCCW) met for their annual meeting on July 15 at Blessed Sacrament Jubilee Hall at Grand Island. The day opened with recitation of a Living Rosary using the Joyful Mysteries of the Peace and Healing Rosary created by the NCCW Spirituality Committee. The rosary includes prayers for loss of a child and those who suffer from bullying and harassment and those who have lost a loved one by suicide. Province Director Susan Johnson welcomed the 39 ladies and priests from the Dioceses of Grand Island and Lincoln and the Archdiocese of Omaha.
Submitted 7/19/2019 by Susan Johnson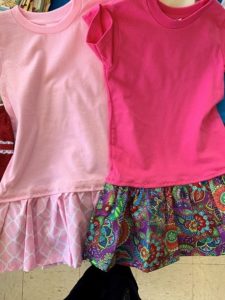 The Grand Island Diocesan Council of Catholic Women met at Camp Comeca on April 26-27 for the Spring Assembly. Sixty-one guests were registered for this Event. One of the Friday evening events for the Service Commission was to trim and count the Best Choice Bar Codes. Some started this task early in the day and by quitting time that evening over 18,000 Best Choice Bar Codes were trimmed, counted and bagged to be redeemed. With the 13,000 Bar Codes back home 31,000 will be redeemed. Each bar code is worth 3 cents, this will result in a check of $960.00 which along with the cash donations and the December redemption received ($2,607.29) will be forwarded to Mission II Haiti water project.
Mission II Haiti is a group from Kearney that go down to Haiti several times a year to install and repair the drinking wells. This group also takes the dresses/shorts down to distribute.
Submitted 5/24/2019 by Susan Johnson
St. Boniface Catholic Church located in Springfield, GA) started a Roses for Babies program. Their program is entitled "Mary's Apron". We have a fabric apron that has 9 pockets .  It is fastened on a small stand on a shelf in the back of our Church with an explanation of the program.  There is a form for the expectant mother to fill in with her name, expected delivery date, information on how many in the household etc.  There is also a sheet of labels that we ask the mother to write her last name and attach it to one of the artificial roses in the stand. She then places the rose in the month of her pregnancy and each month moves her rose to the next month until the baby is born. Our CCW keeps the family in our prayers.  When she or a family member contacts the Church office to announce the baby's arrival, our Roses for Babies committee delivers a homemade meal (at a date that is convenient for the family), a crocheted baby blanket (made by one of our CCW members), and coloring books or other appropriate items for any siblings.  You never know what impact your prayers and gifts can have on a family.
Submitted 6/17/2019 by Yvette Carr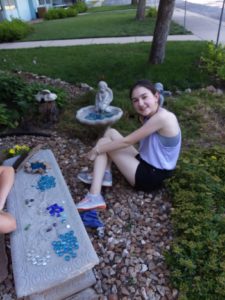 Kaila Beecher is a lively 13 year old enjoying life to the fullest.
Two years ago, Kaila, her mom, her older brother and her step-dad moved from New York into our parish, St. Bernadette's in Kansas City, Missouri.
Kaila was 11 years old when she asked to become a member of our Council of Catholic Women (CCW). Our CCW board members checked the Bylaws and since there is no age limitation they decided that Kaila, with her mom at her side, would be a great addition to the group. Kaila's reason for wanting to join the CCW? She overheard a couple of members discussing a funeral dinner and told her mom she wanted to help. And help, she has! Kaila and her mom sing in the choir, and Kaila is an altar server. Together they both serve in the CCW "Sunday Coffee and Donuts" ministry and at funeral dinners.
Kaila's latest project involved collaboration between the Girl Scouts and our Parish. Kaila decided to go for the Girl Scout Silver Award which is the highest award a Girl Scout Cadette can earn. Working on the Silver Award gives a young scout the chance to develop as an organized and determined leader who is dedicated to improving her community.
For Kaila's project she chose to beautify our parish gardens.  Kaila met with our Building and Grounds committee and presented her ideas which were readily approved by the committee and by her Girl Scout leader. Kaila set goals and a timetable in which to meet the goals. Kaila's determination along with her collaboration and leadership skills turned her project into a success. She received her Girl Scout Silver Award and our parishioners all agree that our gardens look much better.
Submitted 6/24/19 by Beverly South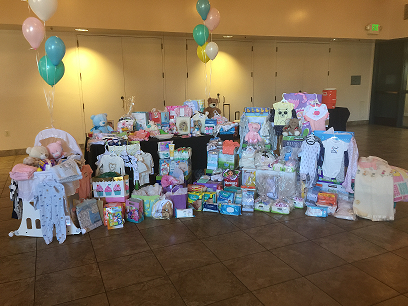 Let's celebrate life! The Orange DCCW hosted a "Baby Shower" to support the Precious Life Shelter (PLS) of Los Alamitos whose mission is an emergency, transitional home that provides a safe environment for homeless, pregnant women.
Members were generous with gifts and monetary donations. The event was held on April 23, 2019 at our monthly General Gathering that started with Mass at St. Norbert's Church in Orange, and followed with a traditional "baby shower" that included mimosa, lunch, and games. Penelope Heckler, council President, introduced the founder of PLS, Theresa Sherrin, and a pregnant woman from the shelter.
Submitted 5/14/2019 by Dr. Ida Pennella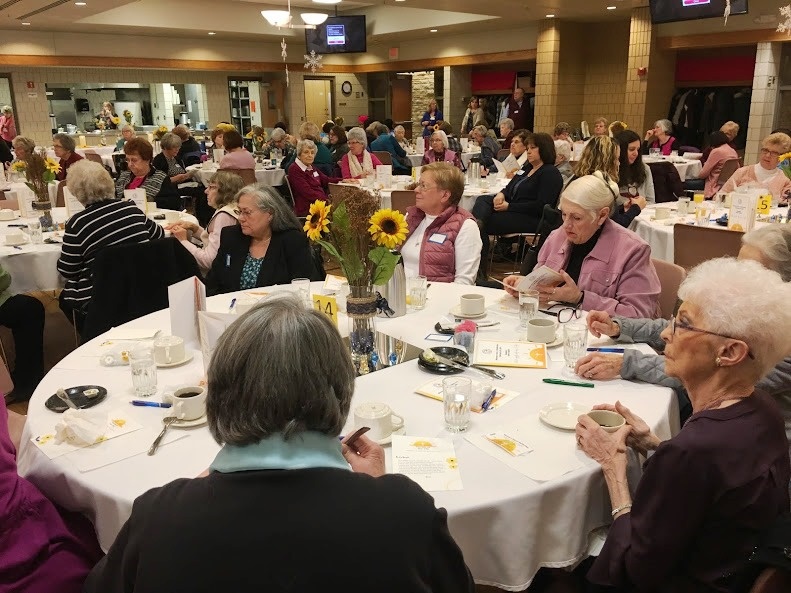 The St. Alphonsus Council of Catholic Women's Day of Reflection was Saturday, February 16. Mary Kellet, founder and executive director of Prenatal Partners for Life, shared her message on "The Gift of Our Life" and "Self Care for Care Givers."  Our day began with the 8:00 am parish Mass, followed by a continental breakfast, Mary's message, Rosary, Benediction and lunch.
Submitted 5/2/2019 by Teresa Droessler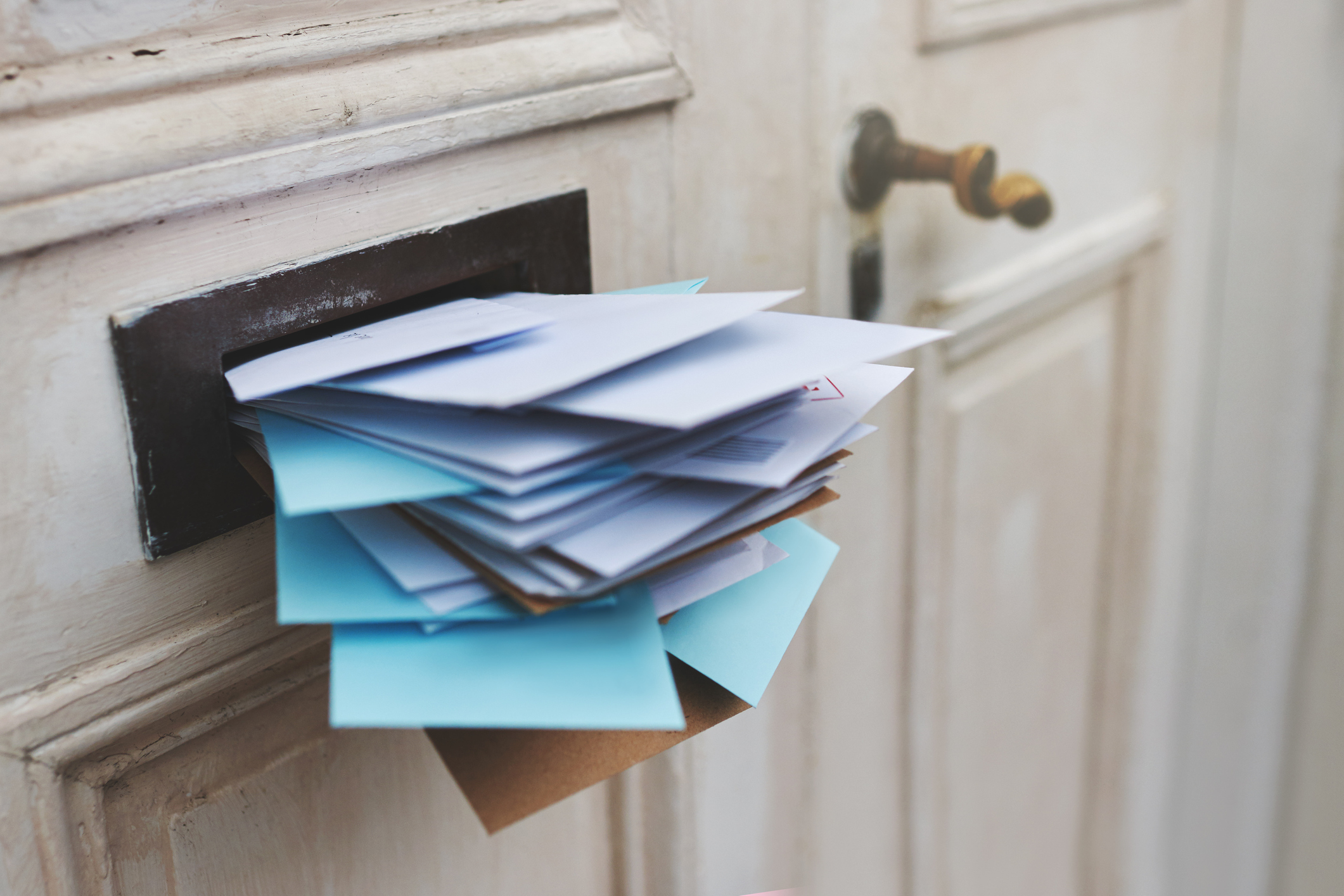 ACCW's Spiritual Advisor Msgr. Robert G. Amey sent a letter to each pastor in the Archdiocese encouraging him to appoint a parishioner to be his parish's ambassador to ACCW. The letter requested that the pastor pay the parish ambassador's $25 membership fee.
Monsignor's letter emphasized the good which ACCW has done recently and pointed to its growth.
Submitted 5/20/2019 by Sharon O'Brien

"The Chicago Archdiocesan Council of Catholic Women in Vicariate 1 sponsor an annual "Golden Rose Award Breakfast" to honor a High School Young woman from each parish in Vicariate 1, the first Saturday of December. The recipient is selected by her parish youth minister/ pastor/or Women's Club group for showing Leadership, portraying spirituality and participating in a service project having gone above and beyond compared to her peers.
We celebrate these young women at a breakfast with a Bishop giving them a certificate, a rose pendant and this year a one year Individual High School membership to the National Council of Catholic Women."
01/04/19 Chris Schumann, Past Province Director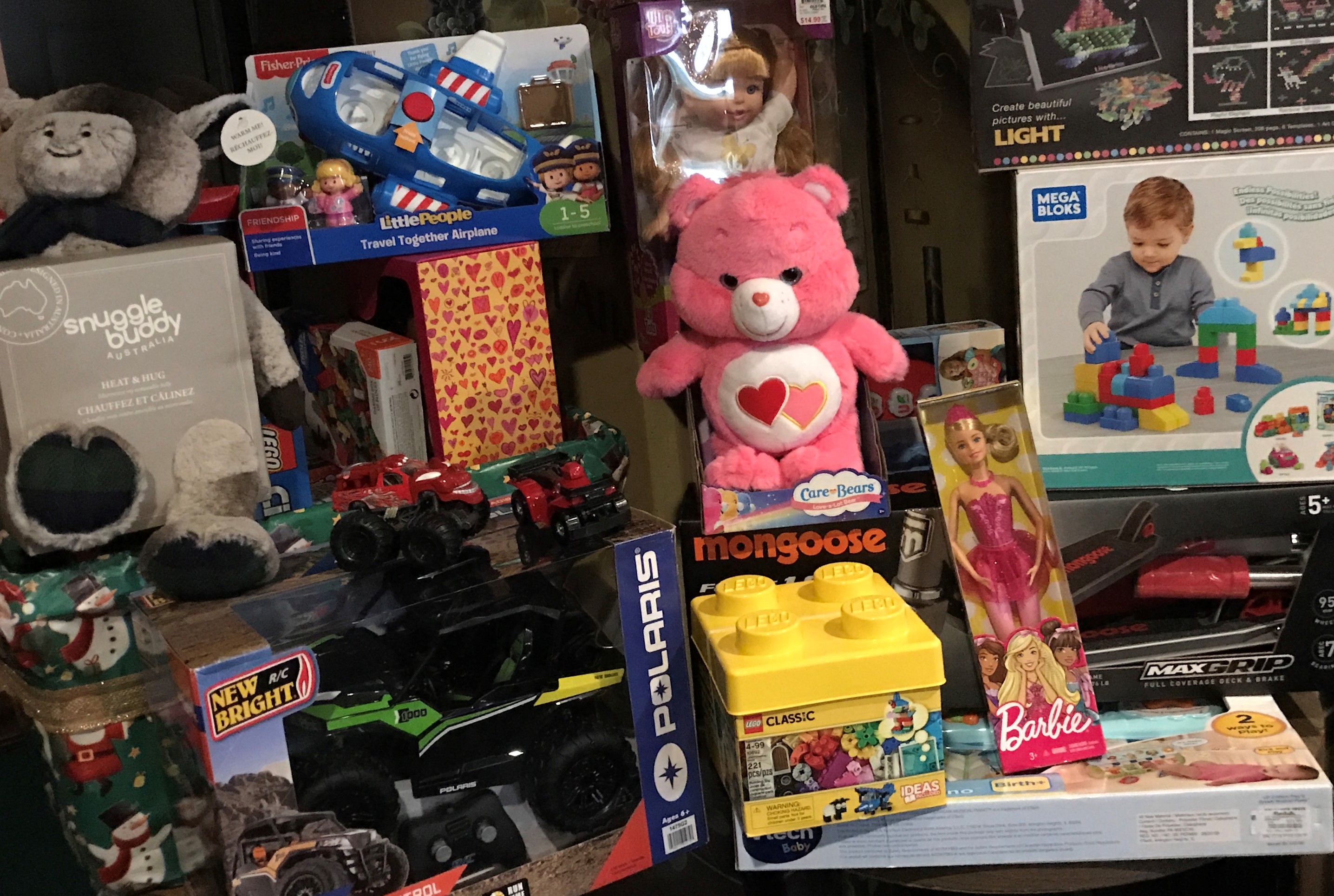 Catholic Church of the Holy Spirit Council of Catholic Women
The Catholic Church of the Holy Spirit Council of Catholic Women (HSCCW) in Pensacola, Florida held its annual Christmas luncheon on Dec. 13 and collected toys for families in Panama City affected by Hurricane Michael.  Christine, HSCCW president, and her husband, Eric Ericson delivered toys collected by HSCCW to Catholic Charities in Panama City.
Submitted 01/04/19 by  Christine Ericson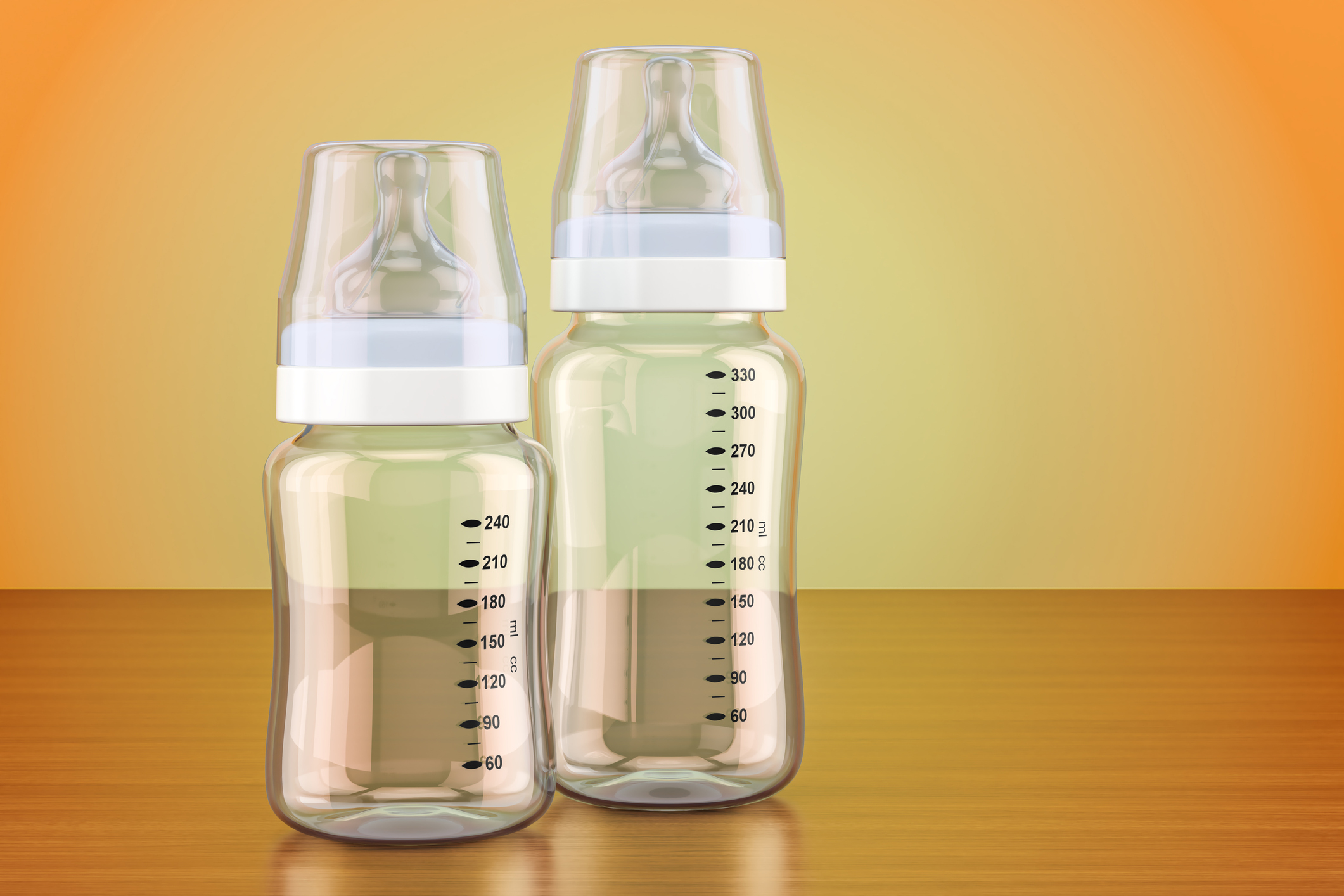 "During Advent we get 35 baby bottles from our local Hannah Center and place them at the entrances of our church.
We ask that families take one and fill it with change for a gift to the baby Jesus and bring it back after Christmas.
Doing this we make a sacrifice , involve the whole family, and promote the spirit of giving.  Last year we collected over $747 for the Hannan Center.  ( A home that helps pregnant moms in need.)"
Submitted 01/07/19 by Grace Mullen, President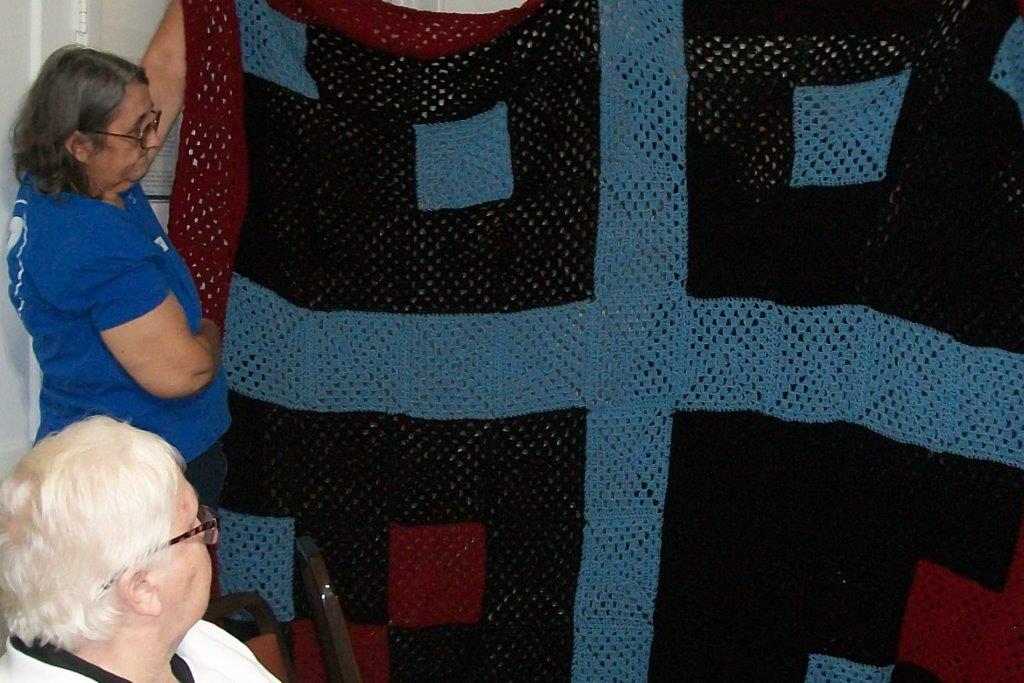 This blanket  was crocheted by CCW member Rachel Kavanaugh (shown on left) to be sent to our spiritually adopted seminarian - Esteban Mallar.  He is presently at Mount St. Mary's Seminar in Emmitsburg, MD.
Rachel also crochets baby blankets for mothers enrolled in our Roses for Babies program.   We pray for the mother and family throughout the pregnancy.  When the baby is born,  we arrange to bring a homemade meal and the baby blanket to mom and baby.
Submitted on January 21, 2019 by
Yvette Carr,  Atlanta Province Director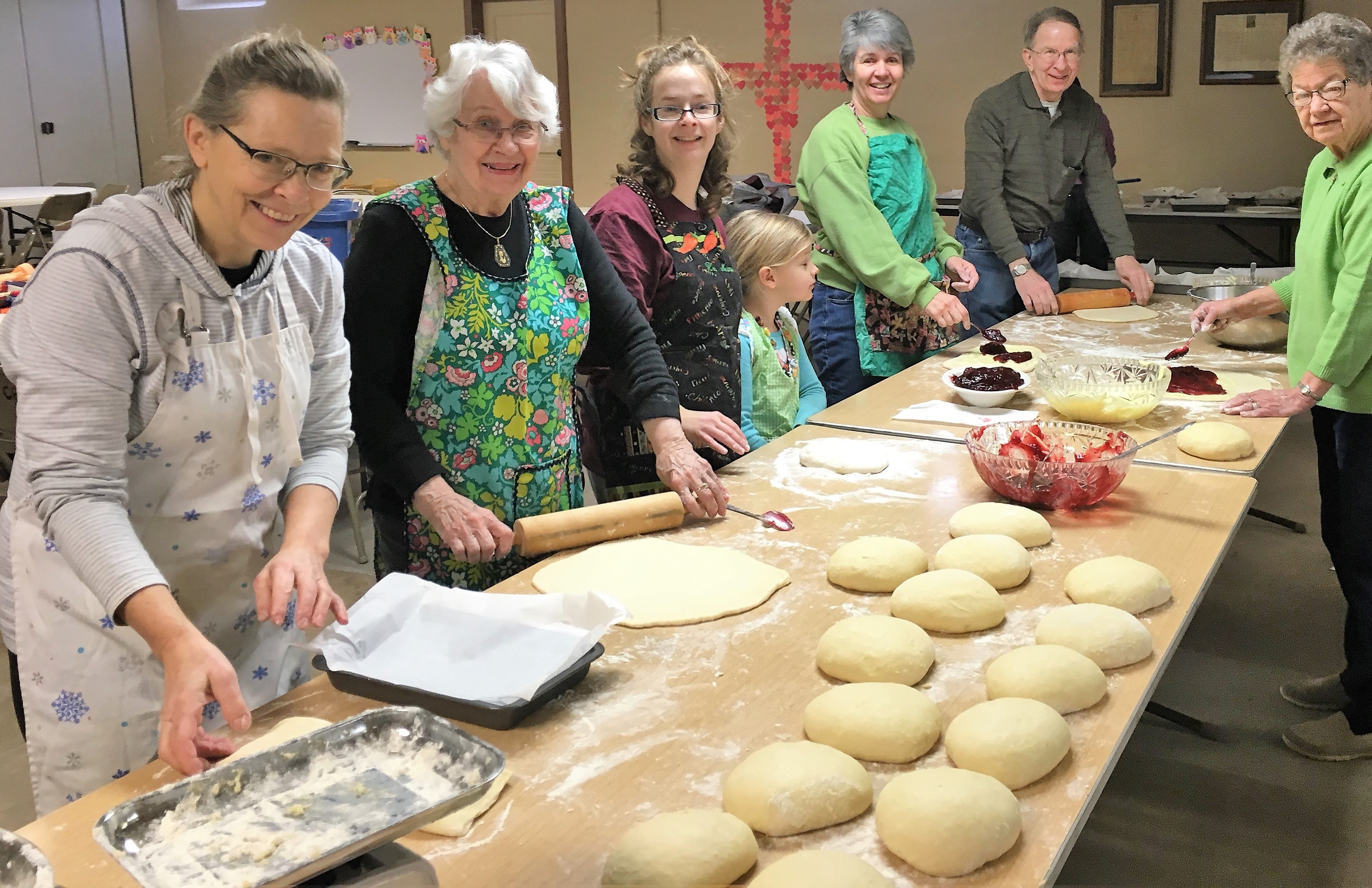 Our Lady of Mount Carmel CCW
We baked over 100 Polish coffee cakes to sell at our breakfast.  Our affiliate has been doing this for over 20 years.  The funds are donated to assist with the purchase of faith formation books, church kitchen supplies and other community needs. 
Submitted on 01/28/19 by Irene Schmidt, ST. Paul/ Minneapolis Province Director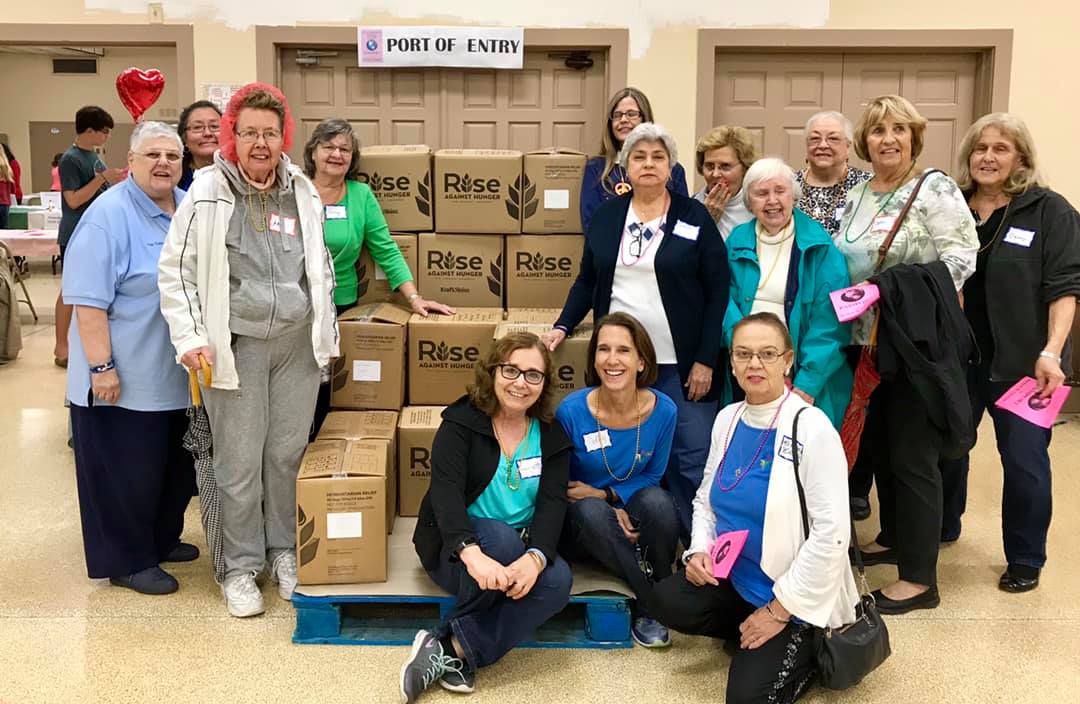 Ascension Council of Catholic Women
Ascension Council of Catholic Women in Florida helped pack 10,000 meals with CRS Helping Hands, a Catholic volunteer and formation event that allows participants to serve their brothers and sisters overseas in a tangible way.
Submitted via Facebook on 01/28/19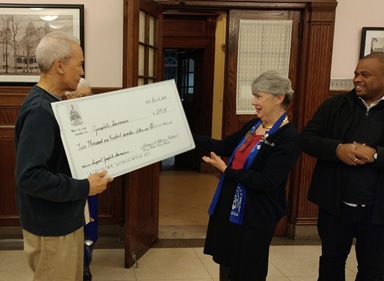 Washington Archdiocesan CCW Supports Seminarians
Archdiocesan CCW President Sharon A. O'Brien presents a check for $2117 to Bishop John Ricard, Rector of the Josephite Seminary in Washington, DC, on December 10. ACCW Service Commission Chair Carol-Ann Parker spearheaded the project to raise money at ACCW events throughout 2018 to aid seminarians who minister primarily to African American Catholics. Looking on is Father Cornelius, Academic Dean. ACCW Secretary, Cheryl Holley arranged the event.
Submitted on January 29, 2019, by Rose Folsom, Washington DC ACCW VP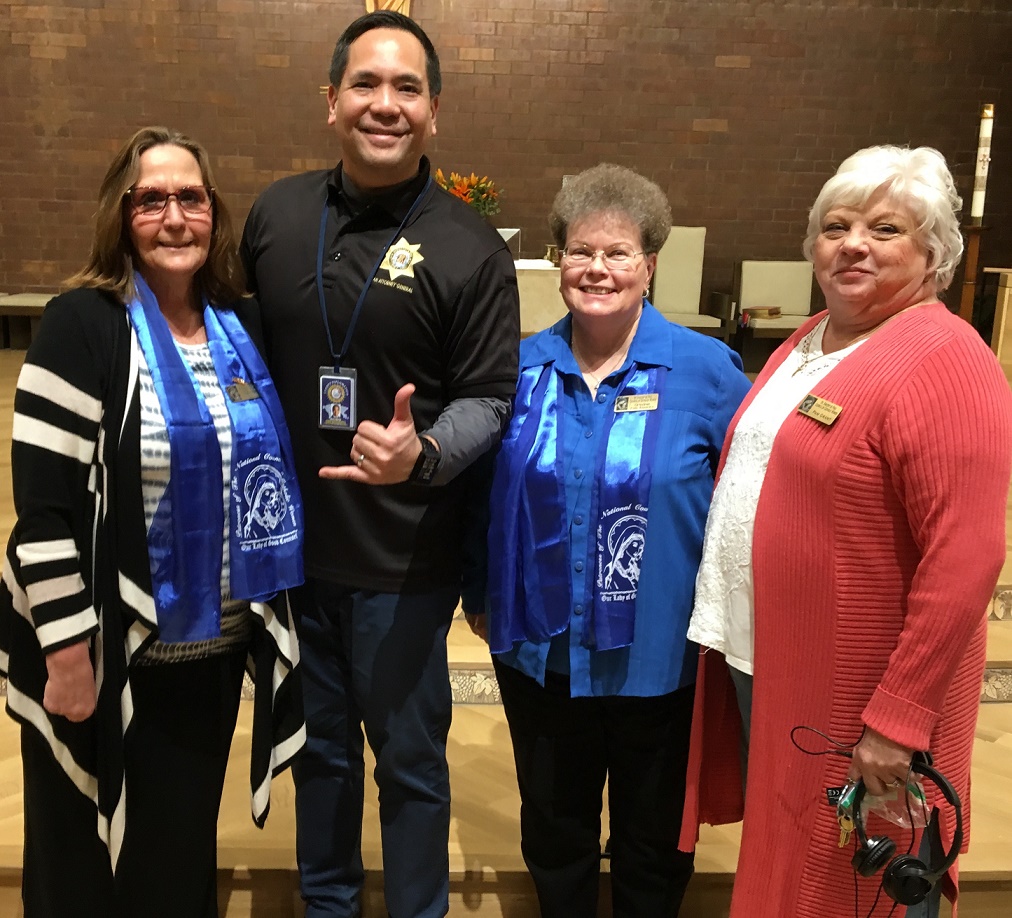 Sean Reyes, UT attorney general, spoke to St. Vincent de Paul CCW on stopping human trafficking in Utah.  He encouraged them to be vigilant – observe, be suspicious, and report our suspicions. He pointed out that Utah is a great thoroughfare from the South and West – freeways and airport. Human Trafficking is becoming much more profitable than Drug Trafficking due to it being 'repeatable'.
Submitted January 29, 2019 by Catherine L. Ford-Barbiero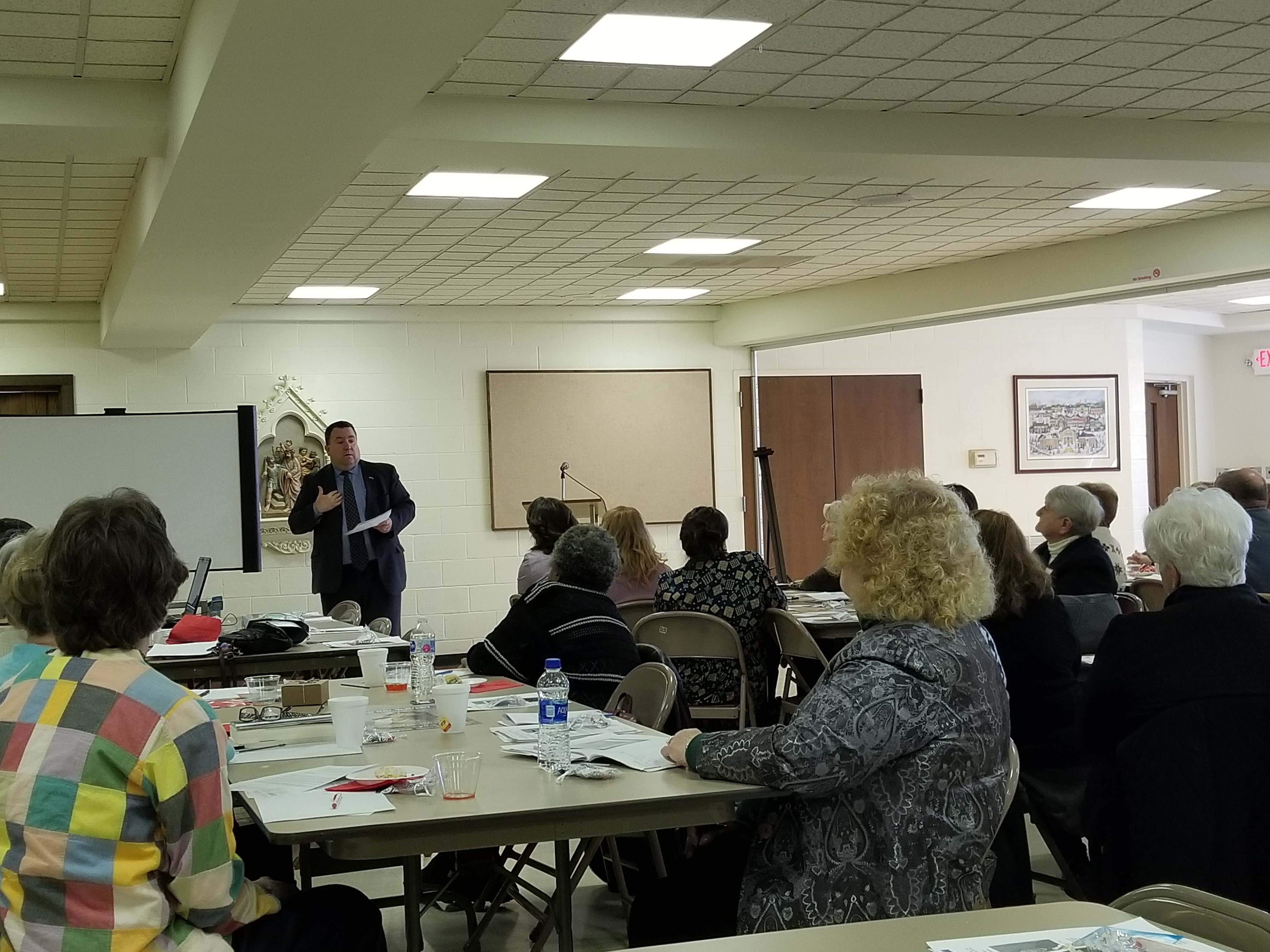 St. Bernard's parish held their 4th annual St. Bakhita Day of Prayer and Education to Combat Human Trafficking.
This year we started with a prayer service and 3 members from our group presented the USCCB's Become a Shepherd Powerpoint.
Indiana County District Attorney, Patrick Dougherty, shared with attendees what trafficking he sees in the current opioid epidemic and the need for more awareness and education among law enforcement. We closed with the Chaplet for Human Trafficking, composed by local woman, Shirley Odosso,  that includes prayers for the traffickers, victims and their families.
Submitted February 12, 2019 by Raissa Federline, Greensburg DCCW Prayer & Outreach Group to Combat Human Trafficking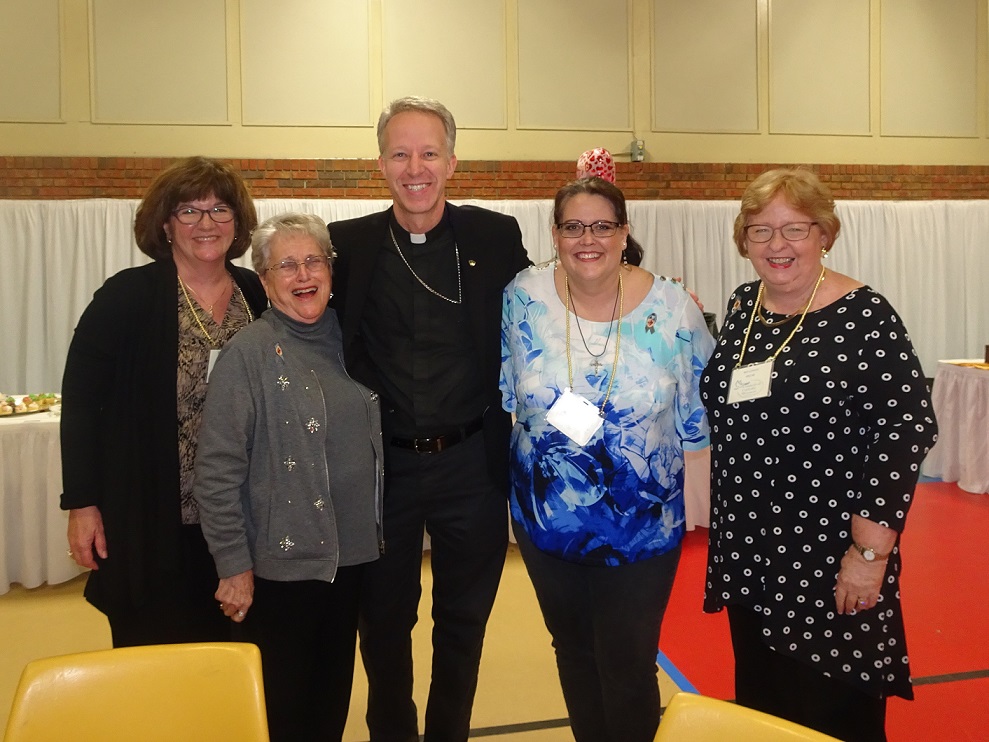 St Paul Catholic Church & SPCCW
St Paul Council of Catholic Women (SPCCW) in Pensacola, Florida hosted a "MASS TO PRAY FOR AN END TO HUMAN TRAFFICKING" on Wednesday, February 13, 2019.  Invitation was extended to family, friends, male and female of all ages through Pensacola Tallahassee Diocesan NewsNotes.   In addition, Western Deanery CCW Presidents contributed to spreading the word through their councils and parishes, of which several surrounding council members attended.  The mass took place at 6:30 pm with Bishop William Wack, Presider along with Father Craig Smith, Pastor/Co-Celebrant and Deacon Bill Whibbs.  It is projected @ 200 people attended mass.
Most attendees participated and enjoyed fellowship following mass in St Paul Parish Center. Much discussion regarding the issue of Human Trafficking plus a handout with trafficking awareness was available at all tables.  Home-made cookies and such, were provided by SPCCW Council Members and enjoyed by all. Nothing went to waste. Providing "To-Go" boxes, Bishop Wack collected a few treats for himself, Sister Margaret Ann gathered some goodies for "Prison Ministry" visit following day, along with other guests, making for zero leftovers!
Submitted 2/14/2019 by Jackie Dickinson, SPCCW President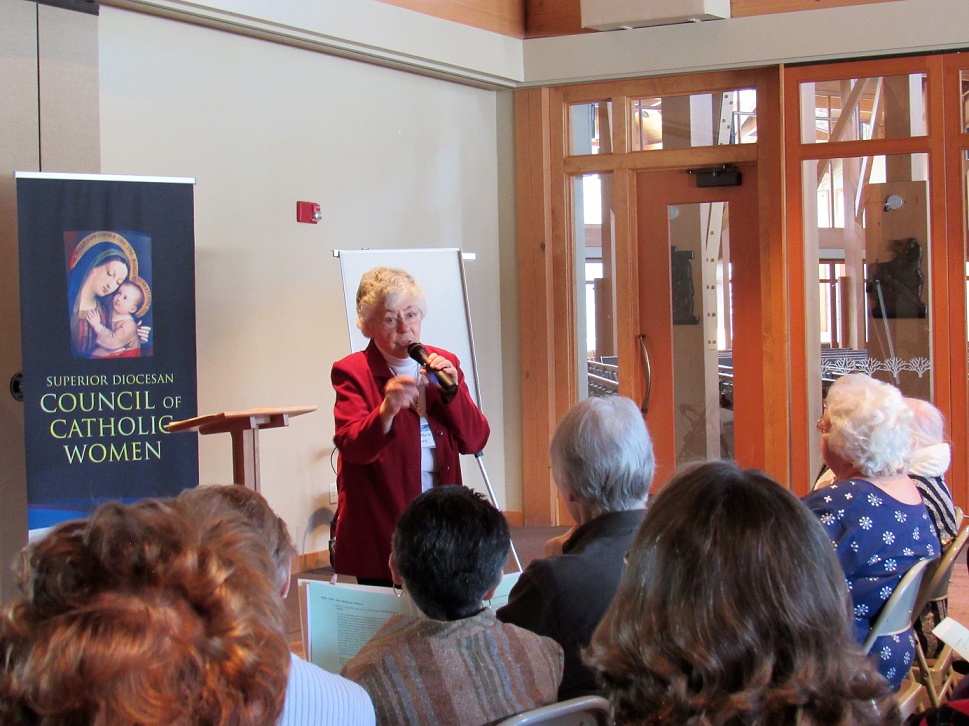 God graced the North woods with sunshine and warmer temperatures as 51 women gathered at Holy Family Parish in Woodruff, WI., on Saturday, Feb. 2, 2019. Women from parts of the Diocese of Superior, Madison and La Crosse attended the Lenten Retreat sponsored by the Superior Diocesan Council of Catholic Women.
The Lenten Retreat was a day designed for contemplation, reflection and quiet meditation. Sr. Anita Beskar, FSPA, and Sr. Marla Lang, FSPA, from the Marywood Spirituality Center, were the presenters for the retreat. Both presenters helped broaden our understanding of our relationship with Mary, who also had human struggles.
Sr. Anita started the morning with scripture readings reflecting on 'Mary as Parent'.
The second presentation was done by Sr. Marla on 'Mary: Mother at a Distance'.  
Sr. Anita presented the afternoon program with scripture readings and discussion centering on 'Mary in Grief'.  
The day culminated with discussion of Mary, how she continues to be a witness to every woman today. Participants then prayed together the Litany of Mary of Nazareth.
Submitted 2/18/19 by Jane Schiszik, SDCCW President-elect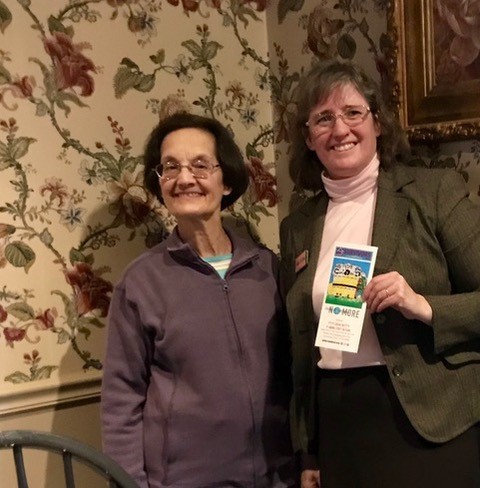 Emily McGinnis pictured here to the right of our PCCW President, Nancy Newbold, was guest speaker at our February 19  meeting.  Emily provided a YouTube Presentation on Human Trafficking.  The presentation depicted many forms of human usage and the scams that might lead a victim to this bondage.  Emily is a mother of five, a Shift Respiratory Therapist at Gettysburg Hospital and is committed to educating the community, especially young people, of this terrible and criminal activity.
Submitted 2/18/19 by Judy Spooner, PCCW Member, 3/14/2019