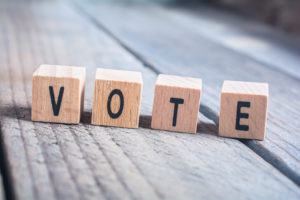 Meet Your 2019 NCCW Candidates
Click the link below to learn about nominees for NCCW President-elect, Secretary, and Nominating Committee.
Voting will open on April 1st.
ON-LINE VOTING
Voting on-line is handled as follows for persons who are presidents of affiliates as well as individual members:
The individual member/affiliate president signs in with her personal (individual member) log in information. She then casts her one individual member vote.
 She must log out as an individual member and  sign in again using the log in information for the affiliate of which she is president. She then casts the affiliate votes. When logging in as an affiliate, two votes are automatically recorded for the affiliate when votes are cast.
Call for Bylaws Amendments
Like any thriving organization, the National Council of Catholic Women periodically amends or revises its bylaws to serve better its membership and the mission of the organization.  Each year at our annual convention proposed bylaws amendments are voted on by attending Individual Members and Affiliation Delegates.  Although our convention is not until August, the Bylaws amendment process begins now.
ARTICLE
XVII
AMENDMENTS
Section 1. These Bylaws may be amended or revised by the
membership at a convention at least every two years, provided that:
(a) The proposals are submitted to the Board of Directors by
the deadline they set and are signed by the president of an affiliation or
subdivision, or a minimum of three (3) Individual Members, or a member of the
Board of Directors, or the Chair of the Bylaws Committee that is appointed by
the Board of Directors.
(b) The Board approves the amendment or revision.
(c) A minimum of sixty (60) days' notice of the proposed
amendments or revision is provided in writing (paper or electronically) by the Board
to all affiliation presidents, subdivision presidents, and Individual Members of
record;
(d) The amendment or revision obtains a 2/3 vote of those
Proposed amendments are reviewed by the Bylaws Committee and are then presented to the NCCW Board of Directors for consideration at its spring meeting.  Notice of the proposed amendments approved by the Board is sent to all affiliation presidents, subdivision presidents, and individual members sixty (60) days in advance of our annual convention.
To allow for the Bylaws Committee and Board of Directors sufficient time to consider amendments for voting at our 2019 convention, proposed amendments using this form must be received by the Bylaws Committee Chair no later than April 12, 2019.
---