The National Council of Catholic Women acts through its members to support, empower, and educate all Catholic women in spirituality, leadership, and service. NCCW programs respond with Gospel values to the needs of the Church and society in the modern world.
Founded in 1920 by the U.S. Catholic bishops to provide all Catholic women a common voice and an instrument of unified action
2021 Approved Resolution
Healing Racism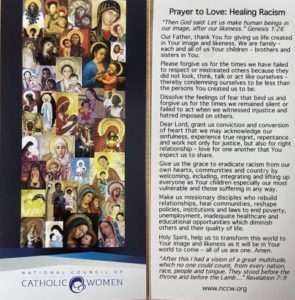 Featured Resource
We have so many resources for our members. Check this module regularly as we spotlight a new "members only" resource, so you can see what a value membership has for you and your ministries.
This resource provides a comprehensive overview of the structure and programs of the NCCW.
Decade Club

Join the new Decade Club today and help guarantee the future of NCCW and the girls that will be members in the future.
The Decade Club consists of a pledge of $1,000, $100.00 annually for ten years.  You can join any time, the ten years begins the day you make your first donation.
All Decade Club members will receive a pin upon NCCW receiving their first donation. All club members will be recognized annually in the convention program as well as in the annual donation section of Catholic Woman magazine.
For more information email nccw01@nccw.org or call 703-224-0990
NCCW Current Events and Happenings
Monthly Member Call
Our member call will be on October 20, 2021--stay tuned for more details coming soon!
Monthly Rosary Call
The Rosary Call is returning to Free Conference Call!
Free Conference Call Number
 (515) 606-5163
Access Code: 703993
 The Rosary Call occurs on the 13th of each month.
Spiritual Advisor Magazine Subscriptions Now Include Full Access to All Online Member Resources
cost $30.00 per year
Please contact the office at
703-224-0990 for more information.
Gift  of  Sustainability
This year we have experienced many unfortunate circumstances caused by the Covid-19 pandemic. These have prevented us from receiving the necessary funds from our annual convention that we rely on to sustain our operation and the many ministries of the NCCW.
We are asking you to consider making a tax-deductible donation to the NCCW as a gift of sustainability. These funds will be used to continue our operations and fund expenses such as rent, payroll, and other costs associated with running an organization of our size.
Please send your gift to:
NCCW Att: Gift of Sustainability
10335-A Democracy Ln Unit 201
Fairfax, VA 22030