The mission of NCCW is carried out through the work of three commissions, each under the direction of a national commission chair and is often mirrored at archdiocesan/diocesan, regional, and local parish levels.
(Members can access a multiplicity of resources by signing into their  member page.  Please click here)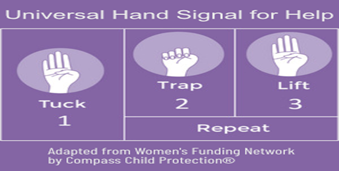 January is Human Trafficking Awareness Month. The Service Commission would like to share some contact information and resources to aid in helping others who might be victims or potential victims of this crime. Learn to recognize the Universal Hand Signal for Help pictured above.