Submission for the Affiliate Happenings page can include a maximum of one photograph (not required) and a paragraph not to exceed 100 words.  Please email to the NCCW office at nccw01@nccw.org. All submissions are subject to approval.
Note: This is not an area to submit an announcement of an upcoming program, rather, it is an area for affiliates to show the fabulous things our women have already done around the country.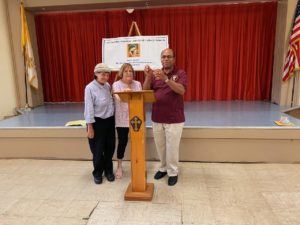 On September 14th the Greater Meriden Council of Catholic Women sponsored a dinner to honor our new Spiritual Advisor, Father Dominic Anaeto, Pastor of Our Lady Queen of Angels Parish, and to present him with his Spiritual Advisor pin.  Pictured is Dr. Loretta Tomasiello, Co-President and Province Director of Hartford, Pat Stasiewski, Co-President and Fr. Dominic, showing his pin to the those attending.