Submission for the Affiliate Happenings page can include a maximum of one photograph (not required) and a paragraph not to exceed 100 words.  Please email to the NCCW office at nccw01@nccw.org. All submissions are subject to approval.
Note: This is not an area to submit an announcement of an upcoming program, rather, it is an area for affiliates to show the fabulous things our women have already done around the country.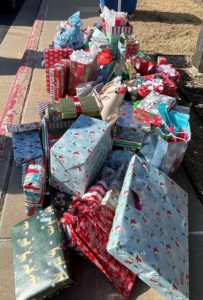 The Clairvaux Women's Club of St. Bernard of Clairvaux Parish, affiliate of the Tulsa, Oklahoma Council of Catholic Women sponsored a family from St. Elizabeth Lodge for Christmas. St. Elizabeth Lodge is a program for single moms and their children who are experiencing a time of transition and need a soft place to fall. Residents at St. Elizabeth Lodge enjoy an apartment to call home, the safety of a secure facility, and the support of others in a similar situation.