Submission for the Affiliate Happenings page can include a maximum of one photograph (not required) and a paragraph not to exceed 100 words.  Please email to the NCCW office at nccw01@nccw.org. All submissions are subject to approval.
Note: This is not an area to submit an announcement of an upcoming program, rather, it is an area for affiliates to show the fabulous things our women have already done around the country.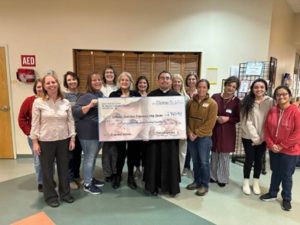 The St. Mary's Council of Catholic Women, Johnson City, conducted through their annual baby bottle drive to collect donations through the Respect Life ministry to support the local pregnancy center.  The SMCCW ladies along with their Spiritual Advisor, Father Dustin Collins, presented the charity with a check for $2,720.40 to assist with the Pregnancy Help Center's mission.  Carolyn Merriman, chairperson of the St. Gianna Guild/Respect Life ministry, coordinated the parish efforts which contributed to these fantastic results!