Submission for the Affiliate Happenings page can include a maximum of one photograph (not required) and a paragraph not to exceed 100 words.  Please email to the NCCW office at nccw01@nccw.org. All submissions are subject to approval.
Note: This is not an area to submit an announcement of an upcoming program, rather, it is an area for affiliates to show the fabulous things our women have already done around the country.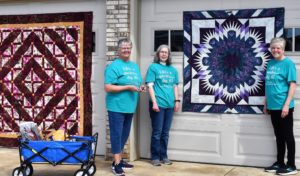 Southwest Minnesota has a council of Catholic women (CCW) sponsored event that draws people from a three state area. Starting in 2015, the Tracy CCW began hosting a unique event that combines gardening and quilts. The event allows people to view beautiful gardens and quilts within a short driving distance from each other and end the afternoon with homemade pie from St. Mary's. The pie project started 21 years ago and their pies are sold year-round. The event has been a huge success and the 2022 garden and quilt tour was even featured on an episode of Pioneer PBS' "Prairie Yard and Garden".