Submission for the Affiliate Happenings page can include a maximum of one photograph (not required) and a paragraph not to exceed 100 words.  Please email to the NCCW office at nccw01@nccw.org. All submissions are subject to approval.
Note: This is not an area to submit an announcement of an upcoming program, rather, it is an area for affiliates to show the fabulous things our women have already done around the country.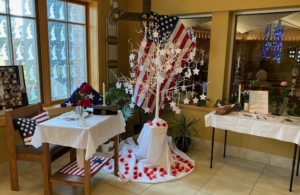 The ladies of  St. Charles Borromeo went above and beyond this Memorial Day for the veterans in their community. A remembrance book was signed, stars signed, and a white tree with lights honored the Veterans who had died through crosses and the Veterans who were not able to be there in person were included by stars signed by the Veterans at the event. A table setting was decorated with poppy petals for the Veterans, a symbol of remembrance and hope for the future. Remembering our Veterans on this Memorial Day.