Submission for the Affiliate Happenings page can include a maximum of one photograph (not required) and a paragraph not to exceed 100 words.  Please email to the NCCW office at nccw01@nccw.org. All submissions are subject to approval.
Note: This is not an area to submit an announcement of an upcoming program, rather, it is an area for affiliates to show the fabulous things our women have already done around the country.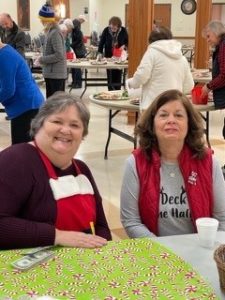 We hosted our 10th Annual Christmas Cookie Walk for the benefit of our Youth Programs. This has become a great Holiday Event to foster faith, family and fellowship. Picture is of Joyce Strootman and myself, Sheryl Kaiser. My daughter started this event when she was a senior in high school and eventually the CCW took over the event.