Submission for the Affiliate Happenings page can include a maximum of one photograph (not required) and a paragraph not to exceed 100 words.  Please email to the NCCW office at nccw01@nccw.org. All submissions are subject to approval.
Note: This is not an area to submit an announcement of an upcoming program, rather, it is an area for affiliates to show the fabulous things our women have already done around the country.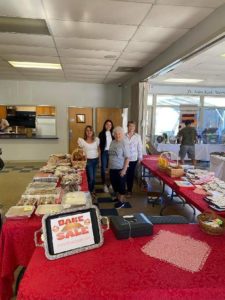 St Luke Catholic Church, Smyrna, TN Altar Society held their Annual Bake sale at their International Fall Festival. They had homemade Cookies, Cakes, Loaves and Pies to take home and enjoy. The primary purpose of the Altar Society is the care and set up of the sanctuary environment, which includes changing the Alter linens, banners, washing and ironing the purificators, replacing burned out candles, and placing seasonal flowers on the Altar.